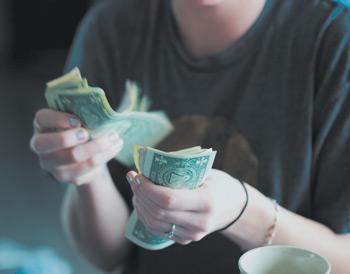 Fayetteville Technical Community College's Center for Innovation, Entrepreneurship and Small Business, along with Wells Fargo, presents the 2018 Youth Entrepreneurship Camp. It is set for Monday, July 30, through Friday, Aug. 3, from 8:30 a.m.-3 p.m. on the campus of FTCC. Friday's schedule is 8:30 a.m.-noon. The camp is open to rising seventh- through ninthgraders who are interested in future business and entrepreneurship goals.
"This will be the ninth or 10th year of having rising seventh-, eighth- and ninth-graders for five days – and it is a fun camp – but they actually learn something in the process," said Kent Hill, FTCC director of the Center for Innovation, Entrepreneurship and Small Business. "We have a lot of simulations and games, and the students come up with a team business plan or an individual project in which they will compete."
Successful entrepreneurs will speak to the students and share their insights about their journey with their businesses. "We have a lot of young guest entrepreneurs and they will speak to the students," said Hill. "We have a young man from Athens, Georgia, who is building a really big business, and he is a freshman in high school."
Hill added they have had young people take hobbies and monetize them into income streams to help pay for things they want or to save for college.
"We have had the most awesome support from Wells Fargo, and it is not just financial support, it is their involvement," said Hill. "One of the things the kids do in their teams is to pitch their elevator speeches to get funding from Wells Fargo bankers." Hill added there is a panel of Wells Fargo bankers who gently coach the students. He said it is a blast to watch the students in action.
"Some of the students who are goofing off get in front of the bankers and get really serious and are really focused," said Hill. "They are pretty good salespeople when money is involved, and that is a pretty good motivator."
"We also have some fun games and competitions, and they will compete for prizes," said Hill. "We are doing something different this year in which the students will tie-dye their own camp T-shirt."
Hill added the students will also tie-dye additional shirts that they can sell. They will have to buy them from FTCC and sell them for a profit.
"We try to feed them a dozen or more potential businesses that they can reasonably operate in school profitably as a student, legally," said Hill. "We really want this to be meaningful and want these young people to go out and say they have some alternatives."
Applications can be found online at www.facebook.com/FTCCSmallBusinessCenter or at http://tiny.cc/ftccsbc. The camp fee is $52 and is due by July 20. It includes a camp T-shirt and lunch Monday through Thursday.
For more information, contact Hill at 910-678-8462.