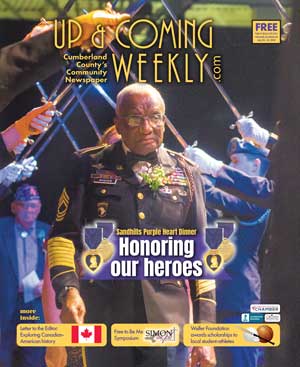 Fort Bragg is home to many of our nation's veterans. Many of them have sacrificed and shed blood for our country. Often, they have spent their adult lives serving. These heroes and their families deserve our thanks, and the Sandhills Purple Heart Dinner is designed to do just that. The Sandhills Purple Heart Committee presents the second annual Purple Heart Dinner Saturday, Aug. 18, from 5-8 p.m. at the Crown Complex Charlie Rose Agri-Expo Center.
The event is open to the public and offers the rare opportunity to sit among dozens of heroes and hear their stories – and let them know just how much we appreciate their service and sacrifice. The focus of the dinner is to honor and thank Purple Heart recipients as well as Gold Star mothers and families of service members killed in action.
The Purple Heart is a United States military decoration awarded in the name of the president to those wounded or killed while serving with the U. S. military. It is a heart-shaped medal within a gold border containing a profile of General George Washington. Above the heart appears a shield of the coat of arms of George Washington (a white shield with two red bars and three red stars in chief) between sprays of green leaves. It was established by George Washington in 1782 as the Badge of Military Merit. The Purple Heart's order includes the phrase "Let it be known that he who wears the military order of the Purple Heart has given of his blood in the defense of his homeland and shall forever be revered by his fellow countrymen." It truly is a badge of honor, one most would not set out to earn.
"We want the community that the military lives and works in to honor the sacrifices that the military have made, whether it's a Purple Heart because you've been wounded in action, a Gold Star mother who has lost a child, or if you are a family member of someone killed in action," said Laura Downing, Gold Star mother liaison and a major with the Fayetteville Police Department. "It's all military branches – Army, Navy, Coast Guard and Air Force. We recognize all wars and actions taken anywhere."
The dinner is inclusive, and the inaugural event was well-received. "Last year, we had individuals who fought in World War II, Vietnam, Korea and Operation Enduring Freedom," Downing said.
While this is the second dinner of its kind locally, it is not a new concept. "There are already several Purple Heart dinners that have been held around the state for years," said Downing. "Wake Forest is in their 10th year, and Charlotte has done it one year."
Downing added that it is appropriate and especially meaningful to have a dinner in Fayetteville, considering the large military population here. "I think they were tweaking the other one before they brought it here because they knew this was going to be a much bigger event because of our population," said Downing. "Last year, it was a huge success and there were military servicemen being honored from 20 years old to 80 years old."
"A lot of our Purple Heart recipients have never been recognized – especially by the community," said Michael Johnson, chair of the Purple Heart Dinner.
Johnson added that the organization has received requests from other cities like Goldsboro, Winston Salem and others.
"Many Purple Heart recipients don't make it to the first dinner because they are reluctant and don't know what it is really about, or they think they have to speak or something like that," said Johnson. "Once the word gets out about the first one, the second one is generally larger than the first."
At the event, each Purple Heart recipient – and their families, if they attend – are greeted. Families are escorted to their table. There is a private reception before the dinner just for the Purple Heart recipients. "It gives them a chance to sit and talk with each other about their experiences," said Downing. "This is a safe environment, and there is a photo op for them to get their picture taken."
After the reception, the recipients are escorted by Junior ROTC Cadets into the main hall where dinner is served. "We have something called a 'Walk of Honor,'" said Johnson. "Cadets in full uniform march out, and they have sabers. As each Purple Heart recipient comes out, they walk through the saber salute, and we announce who they are, where they served, what branch (they were in) and where they received their Purple Heart."
Several attendees have more than one Purple Heart. Some have had as many as five, six and seven Purple Hearts.
"Last year, we had two Medal of Honor recipients present the gift that we have at the end of the saber salute when they come out," said Johnson. "This year, we will have another Medal of Honor recipient to do that, and that means so much to a Purple Heart recipient."
Johnson added that this is a big part of the evening. "Instead of having celebrities or politicians come and speak, we chose to make this about the veterans, so we don't have a keynote speaker."
Part of that is because not every Purple Heart recipient had a ceremony where they received their Purple Heart Medal. Johnson said, "A Purple Heart recipient who is a friend of mine said that the way he received his medal was he came back from the field in Vietnam and found it on his bunk, because in the fog of war, when you come back to base, you only have a few hours before you go out again. Again, most Purple Heart recipients have never been thanked by the community."
There are at least 476 Purple Heart recipients in the Fayetteville/Fort Bragg area. Reaching them all and having them all at the dinner may take time, but that is the goal. "Last year we had 160 Purple Heart recipients, and this year we have 69 so far," said Downing. "We would love to have 200 recipients this year – that would be ideal. … This is the community's way of saying thank you to Purple Heart recipients, and they do not have to pay for this; it does not cost them anything. Nobody that works on this event makes any money. We are all volunteers."
What the volunteers hope to see is a big turnout from the general public. You don't have to know or be related to a Purple Heart recipient to attend. "We really want the community to come and buy a ticket to eat a meal with a hero," said Downing.
Sponsorships are available. For more information on that, contact Sarah Reid at 910-709-2858 or sandhillsphdinnersponsorships@gmail.com.
There are three RSVP options on the website, www.sandhillsphdinner.com. The "Purchase Tickets" button is for the general public to purchase a ticket that will include a meal. The "PH RSVP" button is for Purple Heart recipients to let the event organizers know they will be attending. There is no cost, but registration is required so the veteran can be honored in the "Walk of Honor." The "GSM RSVP" button is for Gold Star Mothers to register to attend the event.
Ticket price for the public is $25. For more information, call 910-438-4100.