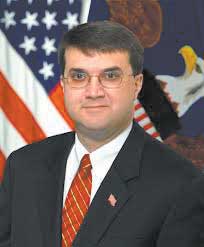 If confirmed by the Senate as secretary of Veterans Affairs, Robert Wilkie will have to deal with VA hiring practices and the over-prescribing of anxiety drugs. A new report from the nation's leading veterans group said these issues may be undermining efforts to combat suicide among veterans.
The American Legion just released a 20-page report soon after the VA came out with its own report showing little change in the veterans suicide rate in recent years.
"VA has implemented numerous successful initiatives and programs," the Legion report stated. "However, as an average of 20 veterans a day continue to take their own lives ... much more must be done."
"The prime directive is customer service," Wilkie said. He told a Senate committee the VA should be an industry leader in opioid intervention and suicide prevention. Wilkie grew up in Fayetteville and has held several top positions in government. He has repeatedly stated his opposition to privatization of the VA, whose budget has quadrupled in the last 20 years and stands at more than $188 billion. That makes it the second-largest agency in the federal government behind only the Department of Defense.
Of concern to Legion officials are significant staffing gaps at VA medical facilities across the country. Department officials have acknowledged more than 30,000 full-time vacancies, particularly problematic shortages in specialties such as mental health care.
American Legion leaders blame those shortfalls in large part on "the tedious hiring process" in the federal bureaucracy and urged more outreach and research into ways to improve the recruiting and retention process.
About 74,000 veterans live in the 19-county area of Southeastern North Carolina served by the Fayetteville VA.
"The shortage of employees can lead to overworked staff, poor patient experiences and lower quality of care," the report stated. Keeping veterans in the VA care network has resulted in a significant decline in suicide, the report added.
Legion officials also sounded alarms over VA physicians' use of benzodiazepines, a class of antianxiety drugs that includes Xanax and Valium.
"Over 25 percent of veterans newly diagnosed with PTSD are still being prescribed harmful and potentially deadly amounts of medications," the report stated.
The report also recommended further outreach by the VA to veterans with other-than-honorable discharges. Last year, VA officials offered emergency mental health intervention to those veterans for the first time. It also suggested more exploration of alternative mental health therapies such as "acupuncture, yoga, meditation and martial arts" for struggling veterans.
Wilkie said that if confirmed, he would carry out the mandate of newly passed legislation that calls for expanding private health care for veterans. But, he said, private care would not replace VA, a longstanding fear among Democrats.
At his confirmation hearing, Wilkie cited a raft of "administrative and bureaucratic" issues he said he has seen firsthand during the weeks he served as acting VA secretary. He said he would fix them by modernizing the agency's cumbersome medical appointment system. Wilkie was appointed to the interim post in March.
To contact the Veteran Crisis Line, dial 1-800-273-8255 and select option 1 for a VA staffer. Veterans, soldiers or their families can also text 838255 or visit VeteransCrisisLine.net for assistance.