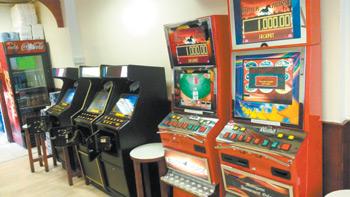 More than two dozen Robeson County people identifying themselves as members of the Tuscarora Indian Tribe face charges of operating illegal gambling houses, money laundering at illegal casinos and the manufacture of controlled substances. Because of their Native American status, they claimed to be a sovereign nation. The men and women ranged in age from 17 to 62.
"This group openly expressed beliefs that neither the laws of North Carolina nor the United States applied to them, putting law-abiding citizens in danger," said Terrance Merriweather, head of North Carolina Alcohol Law Enforcement, the agency that executed the search warrants. "Citizens living near the casinos complained of the illegal activity taking place and notified law enforcement," he added. The illicit casinos were operated in blacked-out buildings. Officials said they operated 24 hours a day, seven days a week.
The Tuscarora coalesced nearly three centuries ago as a people and eventually became part of the Five Nations of the historic Iroquois Confederacy in New York. Some of the Tuscarora migrated south and settled in Eastern North Carolina long before European explorers arrived.
Tuscarora tribal officials in New York dispute claims that anyone in North Carolina has continuity as a tribe with the Tuscarora. They consider any individuals remaining in North Carolina as no longer having tribal status, although they have Tuscarora genetic ancestry.
The illegal casinos operated in Maxton, Pembroke and Red Springs. Vehicles, currency, marijuana, firearms and over 200 illegal gaming machines were seized during the raids following a yearlong local, state and federal inter-agency investigation. The group operated three illegal casinos located at 1345 Modest Rd., Maxton; 129 Nancy Ln., Pembroke; and 1521 Opal Rd., Red Springs. Indoor and outdoor marijuana growing operations were also found.
The Robeson County Sheriff's Office, the State Bureau of Investigation, the U.S. Department of Homeland Security and the U.S. Bureau of Alcohol, Tobacco, Firearms and Explosives assisted NCALE in the yearlong operation.
Merriweather said the illegal band operated an unlawful police force with heavily armed operatives who were not only unlicensed but used blue lights in their pickups. The group made threats of war against law enforcement.
"Most of the offenders were considered to be armed and dangerous, and many have criminal records," said Robeson County Sheriff Kenneth Sealey. "People living in those towns feared the activities taking place around the casinos. At the end of the day, this operation is all about community betterment," he added.
Those arrested included the Tuscarora Nation's leader, Kendall Locklear, and his son, Keaton. Also charged were the armed guards who provided security at the casinos and other employees.
Since the late 20th century, some North Carolina persons claiming Tuscarora ancestry formed bands in Robeson and nearby counties. In the 1960s, many of their descendants and approximately 2,000 other individuals organized an official Tuscarora political infrastructure. In 1979, the Tuscarora Tribe of Indians Maxton was accepted into the National Congress of American Indians. Then, in 2010, leaders and individuals of the various Tuscarora factions in Robeson County came together to form the Tuscarora Nation One Fire Council, an interim, unincorporated government now claiming to be a sovereign nation.