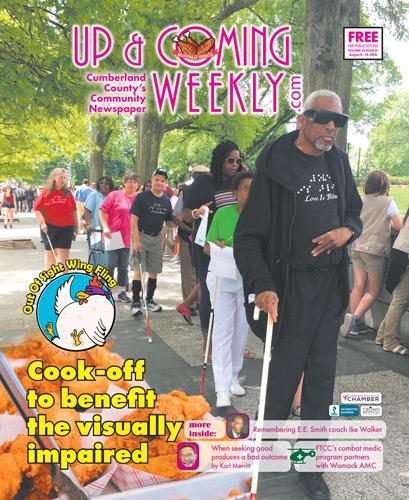 Take a moment and imagine life without the sense of sight. You would have to put your faith and trust in others and learn independent living skills to help you navigate through life's daily routines. This is reality for hundreds of Cumberland County residents. Things like getting to medical appointments or doing grocery shopping can be difficult challenges to navigate. The Vision Resource Center, a vital advocate for many in the blind and vision-impaired population, has come up with a fun way to raise the funds it needs to carry out its mission. Saturday, Aug. 25, the VRC presents its third annual Out of Sight Wing Fling cooking competition. It is set to run 3-8 p.m. in Festival Park.
"The purpose of the Wing Fling is to raise money for the VRC to increase programming and independent living skills for adults and children with visual impairments," said Terri Thomas, the VRC's executive director. "Our goal is to get a bus for transporting them to the grocery store and medical appointments, and we need Colorino Talking Color Identifiers, signature guides and Ruby portable magnifiers."
The VRC opened in 1936 as the Cumberland County Association for the Blind. Working with Cumberland County Social Services, the VRC is one of the first four agencies of the United Way in Cumberland County. The organization changed its name to Vision Resource Center in 2007 and currently operates out of the Dorothy Gilmore Therapeutic Recreation Center, at 1600 Purdue Dr.
Thomas said blindness and visual impairment is an expensive disability that often requires pricey technology to give recipients a reasonable quality of life.
"We need funds to be able to grow and get them exactly what they need," said Thomas. "I am still not able to provide them with some of those things."
There are currently 676 blind and visually impaired individuals in the Cumberland County area. The VRC provides resources such as independent living classes, Braille classes, social activities, a healthy living program, transportation to and from the center, youth programming, summer camp and more for the blind and visually impaired. But these all cost money.
"Lately, we have been partnering with Veterans Affairs, and they have some stuff that is down-leveled to them but new to us, so we have been getting some things that way," said Thomas. "I haven't been able to purchase anything because it is so expensive.
"The state does not provide for blind and visually impaired children under age 13. They only start working with kids at age 14, so that's a whole demographic that now we are writing grants for to try and (reach out to) kids as soon as their parents find out they are visually impaired so we can start working with them."
Thomas noted that the main focus with the youth ages 0-13 is to work on socialization skills, and this is one thing the VRC never receives funding for, but something that would help immensely.
Like many causes, the needs are many and everything helps, including attending the Out of Sight Wing Fling. The event features a wing cooking competition that will have entries from EyeQ Zone, Kid's Zone and more. There will also be food trucks on-site as well as vendors and special guests. Entertainment will be provided by BB Productions, That NATION Band and Wing Fling's very own DJ "Q."
Festival Park is located at 331 Ray Ave. in downtown Fayetteville. General admission to the Out of Sight Wing Fling is $5 and allows attendees to enjoy the vendors and live entertainment. Admission plus wing-tasting costs $10, which includes samples of every team's wings and voting privileges for the competition. VIP tent access is $40, and includes access to a covered V.I.P. tent area, Southern sides to accompany your wing-tasting, two beer tickets, non-alcoholic drink selection and prime seating near the entertainment stage.
For more information, call 910-483-2719. Visit www.wingflingfay.com to purchase tickets.