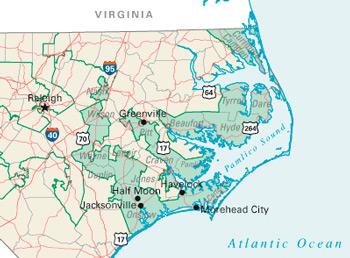 North Carolina leaders across the American government spectrum can agree on one thing: We are a divided people. A group of 60 influential North Carolina leaders, comprised of people in the state's political, business, academic and faith communities, was asked by North Carolina's McClatchy newspapers what they think is driving the partisan divide. The question was posed as part of an ongoing series.
They could not agree on specifics, but there was a general sense of gloom among respondents that North Carolina and the U.S. are becoming more and more divided. Several themes resonated through answers from people on both sides of the political aisle: Civility in public debate is eroding. People are stuck in echo chambers, hearing only ideas they agree with, while social media spreads misinformation.
Political parties have increasingly abandoned moderates and have become more extreme. "President Trump seems to be manipulating people's fears," said Bob Page, CEO of Greensboro-based Replacements Ltd. "We've got to overcome this divide by returning to a sense of working together to solve problems as opposed to electing extreme politicians who divide us instead of inspire us."
Bob Morgan, president of the Charlotte Chamber, said changing demographics are contributing to tensions in the state. "Race is a major factor as our population is increasingly diverse and political power is slowly shifting to non-whites," Morgan wrote. That is evidenced in Cumberland County by the election in recent years of more African-American judges than whites. And, in November of last year, a 6–4 majority of blacks was elected to the Fayetteville City Council for the first time in modern memory.
"White folks are not going to the polls anymore because of animosity," said a local official who asked not to be identified.
"My goal is to continue to be a unifying force of all people in our community," Mayor Mitch Colvin said through a spokesman, though he is on record as
believing there is a clear racial divide in Fayetteville. Colvin is the second African-American to be elected mayor of Fayetteville. He believes the community is
somehow immune from state and national trends of misunderstanding and extremism. "What goes on in the federal and state political arenas has, thankfully,
not affected us here in Fayetteville," he insisted.
Ric Elias, CEO of Red Ventures, said people aren't willing to hear opposing viewpoints anymore. "The biggest issue we have as a state and as a country is that we have stopped listening to each other," Elias said.
Forty-two percent of respondents in the Mc-Clatchy newspaper poll pointed to political gerrymandering as a prime cause of polarization. Gerrymandering is the practice of manipulating district boundaries in an effort to establish a political advantage for a particular party or group. It has created uncompetitive political districts at all levels of government.
"Gerrymandering requires office holders to play to their base on every issue," said former Gov. Mike Easley, a Democrat. "The districts need to change so that all leaders listen to all voters as they try to resolve important issues."
Former Bank of America CEO Hugh McColl of Charlotte had a simple answer to the question of what is driving polarization among the populace: "Massive ignorance."