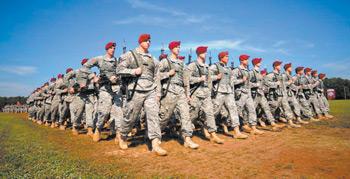 With the return this month of 82nd Airborne Division soldiers of the 249th Composite Supply Company, America's Guard of Honor is united at Fort Bragg. "This would be a first time in a while that all units within the division are home," said 82nd spokesman Lt. Col. Ramon Osorio.
The unit of the 189th Combat Sustainment Support Battalion worked in Iraq, Kuwait and Syria during the nine-month deployment.

As the largest parachute force in the free world, the 82nd Airborne Division is trained to deploy anywhere, at any time, to fight upon arrival and to win. From cook to computer operator, from infantryman to engineer, every soldier in the 82nd is airborne-qualified. Almost every piece of divisional combat equipment can be airdropped by parachute onto the field of battle.
U.S. defense spending
President Donald Trump signed the 2019 National Defense Authorization Act into law last week, marking the first on-time passage of the annual bill in 22 years. The $717 billion defense policy bill goes into effect Oct. 1, the start of the 2019 federal fiscal year.
The legislation moves on two tracks. A defense appropriations bill is what funds the Pentagon to pay for the spending plan. Without such a spending measure in place by Oct. 1, lawmakers might need to pass a temporary budget measure, which is known as a continuing resolution, to keep the government afloat until a permanent plan is in place.
With a 2.6 percent pay raise slated to go into effect Jan. 1, service members will see their wages increase to the highest level in nine years. "It clearly signals that Congress wants military pay to be competitive," said Mark Cancian, a senior adviser with the Center for Strategic and International Studies.

Under the plan, an E-5 with eight years of service could see a monthly basic pay increase of $80.81 from $3,126.16 in 2018 to $3,206.97 in 2019.
Fort Bragg's 100th anniversary
The city of Fayetteville and county of Cumberland are celebrating the Fort Bragg Centennial with exhibits and banners. Exhibits are now on display at the Airborne & Special Operations Museum, the Fayetteville Area Transportation & Local History Museum, Fayetteville City Hall and the North Carolina Veterans Park. Banners commemorating the post's centennial will be on display at Fayetteville- Cumberland Parks & Recreation buildings, the E. Maurice Braswell Cumberland County Courthouse, city hall and all county public libraries.
"The history of Fayetteville can't be told without Fort Bragg," City Manager Doug Hewett said. "Fayetteville is blessed and fortunate to have nearly 60,000 servicemen and women and their families here."

Fayetteville and Cumberland County government leaders presented proclamations celebrating Fort Bragg's 100th anniversary to Garrison Commander Col. Kyle Reed.
"We are incredibly grateful to the military members and their families who have served our country for the last 100 years while stationed here. We are also thankful for the civilians and contractors who assist Fort Bragg in meeting its mission," said County Manager Amy Cannon.
Restoration of Hope Mills Lake has won the town special recognition from the City-County Joint Appearance Commission. The honor was presented to the town of Hope Mills earlier this month during the 10th Annual Community Appearance Awards Program.
The town has also been chosen to receive the Association of State Dam Officials 2018 National Rehabilitation Project of the Year award, Mayor Jackie Warner said. The award recognizes construction of the new dam, which was completed late last year. The lake was impounded early this year. The dam project cost $9.6 million. It replaced a new dam that failed in 2010 – only two years after it was built. Town Manager Melissa Adams said the dam safety award will be presented Sept. 10 in Seattle, Washington.
DMV customer lines are too long
The state Division of Motor Vehicles says it is reassigning staff and hiring additional driver's license examiners to try to reduce the long lines at driver's license offices around the state. The DMV says it is working to fill 80 existing vacancies for driver's license examiners and hire more. In addition, 14 examiners who work at mobile units are being reassigned to offices where customers have been waiting for hours to be served.
DMV Commissioner Torre Jessup acknowledged that many DMV offices have been overwhelmed with customers this summer, resulting in lines that stretch outside and wait times that can take most of a day. "Our top priorities are to issue accurate and timely documents in an efficient manner for all our customers," Jessup said.
DMV also announced that it would establish teams of employees dedicated to doing road tests, so driver's license examiners won't need to leave their desks to do them.
Division of Motor Vehicles offices in Cumberland County are located at 4705 Clinton Rd., Stedman, near Cape Fear High School, 2439 Gillespie St. (US301) near the State Highway Patrol Barracks, in Eutaw Village at 831 Elm St., 3333 N. Main Street in Hope Mills and on highway NC210 in Spring Lake.

City and County property taxes are due
The Cumberland County Tax Administration office mailed tax bills to property owners Aug. 10, with reminders that property taxes are due Sept. 1. But, a grace period doesn't require payment in full until Jan. 7, 2019, with no penalties or interest. After Jan. 7, unpaid tax bills will begin to incur a 2 percent interest charge the first month and 0.75 percent interest charge each month thereafter.
Taxpayers may pay their tax bills online, by mail, by phone or in person. Information is available online at co.cumberland.nc.us/tax. Payments can be made by electronic check, debit card or major credit card. Fees are charged by the county for use of plastic cards. Taxpayers can set up online bill pay options with their financial institutions.

Taxpayers can also make payments in person from 8 a.m. to 5 p.m. at the Tax Administration office, which is located on the fifth floor of the Cumberland County Courthouse.