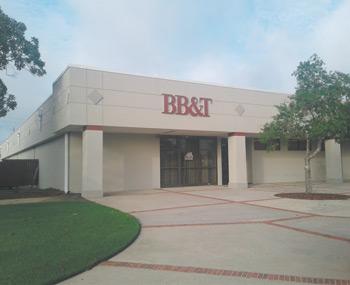 There was a time when Branch Banking & Trust Company was the dominant financial institution in Cumberland County with 10 branches. On Nov. 16, BB&T will close its Bragg Boulevard branch, reducing its local financial center count to six in a very competitive industry. There are more than 20 separate banks and credit unions in Cumberland County now, most with several branches.
"After careful consideration, we will be closing the Bragg Boulevard financial center ... consolidating it with the Fayetteville main financial center at 3817 Morganton Rd.," said Dorothy Woodard, BB&T regional banking manager.
In September of 2017, BB&T Corp., headquartered in Winston-Salem, announced plans to close 140 branches. The bank updated its branch-closing plans later last year as part of a presentation by Kelly King, BB&T chairman and chief executive officer.
"For the last 10, 15 years, we've been kind of handicapped, because we've been having to deal (with) the digital system, while at the same time we've been having to carry along the traditional brick-and-mortar system without much opportunity to rationalize the cost," King said. "That is changing very quickly now."
King's presentation listed 2,188 branches companywide as of June 30, 2017, including 351 in North Carolina, 344 in Virginia and 318 in Florida. King said many of the branches being targeted for closure have other branches close by, which he believes will limit potential customer runoff.
The BB&T branches nearest the Bragg Boulevard location are on Rowan Street downtown and Morganton Road at Westwood Shopping Center. There is a First Citizens Bank branch next door to the office BB&T is closing.
King said that BB&T is trying to balance "a steady decline in branch activity" with the fact that most of its client base "still value the branches."
BB&T has been serving Fayetteville and Cumberland County for over 44 years. It also has branch offices in Hope Mills and Eastover. In August of 1994, BB&T and Southern National Bank announced a "merger of equals." The merged bank would be called BB&T. The Bragg Boulevard office being closed in November was originally a branch of SNB.
With mobile phones now able to provide virtually all the services of a branch at a fraction of the cost, banks have cut their expenses massively by shutting physical locations and moving customers to apps and automatic teller machines, relieving some of the pressure of low interest rates, new competition and reduced loan growth. A new Bain & Co. study shows most customers who want to do mobile banking are already doing so. Many customers who rely on branches now often use the closing of one as an opportunity to switch banks, Bain found.
BB&T's strategies must be working. King shared impressive numbers with stockholders in a July conference call: "We had record earnings, record returns, strong revenue, very good expense control, great asset quality and improved loan growth. Net income was record $775 million or up 22 percent versus second 2017. Diluted EPS was $0.99, up 28 percent. Adjusted diluted EPS was a record $1.01, which was up 29 percent."