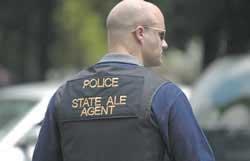 North Carolina Alcohol Law Enforcement special agents arrested 226 people on alcohol, drug and other charges during an operation Aug. 24 as part of a statewide crackdown. During the operation, ALE special agents in Fayetteville intervened during a disturbance outside a Food Lion on Rosehill Road.
"Agents were checking ABC-licensed businesses, of which the Food Lion is one," State Bureau of Investigation representative Patty McQuillan said. They heard a gunshot and responded to the scene. "A man was shot in the stomach area, and an ALE and SBI agent applied pressure to the wound and kept the suspect conscious during the event."
Fayetteville police said a man later identified as Marquel White, 26, was walking toward his vehicle in the parking lot with his 2-year-old daughter in his arms when a male subject began following him yelling expletives at him. After White put his daughter in the car, he was attacked by the male subject, who brandished a knife.
"White fired a handgun at the man, striking him in the abdomen," said Fayetteville police spokesman Lt. Gary Womble. Police have not released the name of the man with the knife.
More Hurricane Matthew relief
Hurricane Matthew environmental reviews have been approved by the U.S. Department of Housing and Urban Development for Cumberland, Edgecombe and Wayne counties. They will provide hurricane repair funds from Community Development Block Grants for Disaster Recovery.
"Many residents in these three counties have been waiting for this approval so repairs and reimbursements can move forward for them," said North Carolina Emergency Management Director Mike Sprayberry." He added that the pace of HUD-funded repairs will accelerate quickly. Once homeowners formally accept their CDBG-DR awards, home repairs and reimbursements can follow.
Homeowners who have already completed repairs and are seeking reimbursements will receive their reimbursement checks at closing.
Congress initially appropriated $235 million in CDBG-DR funds to help residents in North Carolina recover from Hurricane Matthew. HUD has designated 80 percent of that funding to be used in the four counties hit hardest by Matthew: Cumberland, Edgecombe, Robeson and Wayne. Congress has identified an additional $168 million in CBDG-DR funds for North Carolina, and those funds will become available to the state once guidelines for their use appear in the Federal Register.
Soldier killed in out-off-state plane crash
A Fort Bragg soldier was among four victims killed in a small plane crash in Georgia earlier this month. The U.S. Army parachute team, the Golden Knights, said Staff Sgt. Aliaksandr Bahrytsevich, 31, was killed in the crash in Swainsboro. Bahrytsevich was originally from Belarus. He was off duty at the time of the crash.
"Alex was extremely passionate about the sport of skydiving and always sought opportunities to coach and mentor other members of the team," the Golden Knights said in a statement. "Alex served the U.S. Army with distinction and pride."
The Federal Aviation Administration said a Cessna 182A aircraft crashed just after takeoff from East Georgia Regional Airport. According to reports, a fifth person was badly injured and was in critical condition.
Arts Council director to retire
Deborah Martin Mintz, executive director of the Arts Council of Fayetteville/Cumberland County, says she will retire in early 2019. Mintz has worked with the Arts Council for more than 24 years, serving as executive director for 17 of them. "I am honored to have served this community through the arts and Arts Council for over two decades," Mintz said.
A national search is underway to fill Mintz's position. "Deborah's many years of progressive leadership, vision, management and operation of the Arts Council has firmly established the organization as a premier nonprofit arts agency in our community and one of the best in the state of North Carolina," said David Phillips, president of the board of trustees of the Arts Council.
A Dickens Holiday, 4th Fridays, the International Folk Festival and numerous popular events and programs were started or expanded during her tenure. The organization was founded in 1973 and is located at 301 Hay St. in downtown Fayetteville.
Cumberland County Fair
The Cumberland County Fair is well underway on the grounds of the Crown Complex. Ticket prices are $7. Unlimited carnival ride wristbands are $25. Individual ride tickets and wristbands are sold separately. Admission prices vary from day to day. Children under 2 years old get in free.
The annual event celebrates the county's agricultural heritage and combines family fun and entertainment with exciting rides and fair food. The exhibit hall features commercial, educational and informational booths as well as agricultural exhibits.
Events include an interactive petting farm; Great American Timber Show; World of Wonders Show; Escape Explosion Show; Ring Wars Carolina Wrestling; racing pigs; toddler driving school; family and consumer sciences education; home, craft and agricultural exhibits; and a wide range of performances on the entertainment stage.
Tickets can be purchased by phone at 1-888-257-6208, on the web at CapeFearTix.com, or in person at the Crown Box Office.