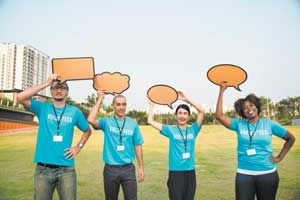 Three times since 2013, Fayetteville City Council has commissioned surveys that asked residents what they think about city government and the services provided. ETC Institute of suburban Kansas City, Missouri, has conducted the surveys every other year and included in its findings short-term increases and decreases in citizen satisfaction.
ETC has found that residents generally have a positive perception of Fayetteville. "The survey results helped to identify areas in which we are doing well and areas in which we need to improve or place additional emphasis," City Manager Doug Hewett said.
Residents report overall satisfaction with city services. Eighty-five percent of respondents gave high marks to fire protection and rescue services. Sixty-eight percent spoke highly of police protection. Other municipal services with the highest levels of satisfaction included solid waste (trash) collection, curbside recycling, the courtesy of city employees and the ease of reaching city employees.
Seventy-seven percent of the respondents said they feel safe walking alone in neighborhoods during the day. Parks and recreation programs and facilities are well-regarded across the city, which partially explains the success two years ago of a $35 million bond referendum.
The biggest complaints are unhappiness with traffic flow and lack of adequate maintenance of city streets. Most residents who answered the survey were neutral with traffic flow. The 43,000 citizens of West Fayetteville who were annexed 15 years ago are still unhappy with traffic issues.
Other areas with the lowest level of satisfaction included lack of bike paths, the slow removal of abandoned vehicles and the inadequacy of public parking in the downtown area. Thirty-one percent of the people said the city seemed unprepared to manage development and growth, something that caused council member Larry Wright to question whether people understand what the city does. "Our citizens are not really aware of all that we're doing," Wright said.
ETC Institute Project Manager Jason Morado said the purpose of the biennial surveys is to gather input from residents so that the findings can serve as a benchmark for the future. The seven-page surveys were mailed to 4,000 randomly selected citizens. The goal was to receive at least 600 responses in return. Morado said 696 surveys were returned. Many of the respondents were also surveyed by emails. The margin of error was calculated to be +/- 3.7 percent.