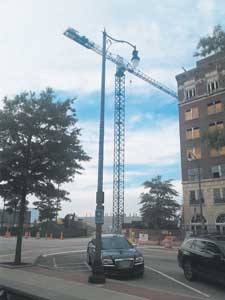 If you park your car on Person Street adjacent to the county courthouse, you might pull into a spot that indicates two-hour parking. You'll do a double take at another sign on the same pole that says no parking. A closer look discloses that a small slot between two parking spaces has been carved out for access to a fire hydrant.
Sometimes, things stand out like a sore thumb. A drive along Hay Street reveals something never seen before: a massive high-rise construction crane next to the old Prince Charles Hotel building.
Downtown Fayetteville's skyline will soon be quite different. Deputy City Manager Kristoff Bauer said the crane will be in position for the next couple of years for construction of an eight-story hotel and office complex that will be built on top of a five-floor parking garage.
With 13 stories, it will become downtown's tallest structure. The Council on Tall Buildings and Urban Habitat defines skyscrapers as those buildings which reach or exceed 490 feet in height.
The parking deck should be completed next spring when the minor league baseball stadium opens for business. But Bauer said it will be another year or so after that for construction to be completed on the entire project.