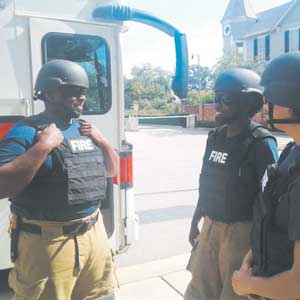 Some veteran firefighters are asking why it took so long. The Cumberland County Fire Chiefs Association recently purchased ballistic protective gear for volunteer firemen as part of its active shooter response plan.
"Unfortunately, we are seeing increasing numbers of active shooter situations across the country," said County Fire Commissioner Jimmy Keefe. "Our emergency responders are preparing should the unthinkable happen here," he added.
All 19 rural county fire departments are being issued the equipment. Firefighters have been receiving specialized training in mass casualty life-saving, which integrates fire department and emergency medical personnel with law enforcement to rapidly extract and care for injured victims.
Stoney Point Fire Chief Freddie Johnson is Fire Chiefs Association president. "Based on research from active assailant incidents, emergency responders needed to change the active shooter response model to save more lives," Johnson said. "We must be prepared to move in and get the victims out." Johnson cited the North Carolina Active Assailant and Mass Violence Work Group White Paper released in 2017.
Until now, fire department protocol in the city and county has been for rescue personnel to lay back while law enforcement officers deal with active shooter situations and clear the scenes. In many mass shootings across the country, heroic personnel have been found dead when they tried to help others and got no help themselves.
The Fire Chiefs Association spent approximately $90,000 for the equipment. Funding was appropriated by county commissioners from the 1.25-cent fire district tax receipts from Cumberland County's unincorporated volunteer fire districts. The protective gear includes Kevlar helmets and ballistic chest and side bullet-resistant vests with striker plates capable of stopping high-velocity ammunition.
Purchasing the equipment became a priority because of increasing hostile fire incidents, according to Johnson. "Cumberland County Fire Service reached another milestone as we begin the process to equip all our volunteer fire departments with protective equipment that will allow our firefighters to enter an active shooter scene or mass-casualty incident in order to extract the injured as part of a rescue task force," he said.
Rescue teams consist of firemen or EMS personnel who are shielded by police officers in human extraction situations.
"We recognize a new chapter in public safety and the important role the fire and emergency service personnel have in our community," Keefe said.
The City of Fayetteville Fire Department was not included in the distribution of the protective gear. Its 17 fire stations are funded directly by city property tax receipts. "We are working to find financial resources to equip our firefighters with the equipment," said Fire Chief Ben Major.