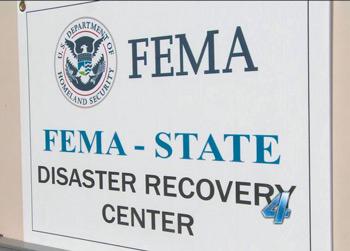 The state of North Carolina and Federal Emer­gency Management Agency are operating a joint disaster recovery center at the Cumberland County Department of Social Services, 1225 Ramsey St. It is open seven days a week, Monday-Saturday, 9 a.m. to 7 p.m., and Sunday, 9 a.m. to 1 p.m.
The center offers in-person support for individu­als and business owners who sustained major Hurri­cane Florence disaster damage and damage caused by subsequent floods.
Homeowners, renters and business owners should register for disaster assistance before visit­ing the recovery center by calling 800-621-3362 or texting 800-462-7585. Be prepared to provide the location where the damage occurred, current mailing address and telephone number, insurance information, total household annual income, rout­ing and account numbers for checking or savings accounts and a description of disaster-caused damage and losses.
Initial hurricane damage assessment
FEMA's Hurricane Rapid Damage Evaluation is complete regarding all accessible residential prop­erties. Homes have been categorized as affected, minor, major and destroyed.
Cumberland County has completed its prelimi­nary Hurricane Florence damage assessment for unincorporated areas and the six smaller towns in the county. The loss does not include damages in Fayetteville, Hope Mills or Spring Lake. A total of 731 residential structures were damaged for an estimated loss of $28,119,667, according to Assistant County Manager Sally Shutt. A total of 16 commer­cial structures in the county were damaged for an estimated loss of $2,984,260.
In the city of Fayetteville, just under 1,200 hab­itable structures have evidence of wind or flood damage. About 100 of those structures were found to be damaged because of flooding. Two-thirds of the impacted structures are categorized as affected. Another 300 plus are categorized as minor. Four dozen houses received major damage.
"It is important to realize that this assessment is not the same as what private insurance adjust­ers continue to conduct throughout our city," said Development Services Director Jerry Newton. The total loss countywide will be in the tens of millions of dollars. Flood- and wind-damaged structures throughout the city are likely higher than the 1,200 found through the FEMA assessment, Newton said.
The city of Fayetteville was unable to provide a preliminary monetary estimate of the damage. Damage assessment work is still underway. Teams have not been able to access some areas because they have been hampered by floodwaters and poor road conditions. The initial estimate does not in­clude commercial properties.
Hometown utility shines
The Public Works Commission's Emergency Op­erations Center was staffed more than 100 straight hours from Thursday, Sept. 13, through Tuesday, Sept. 18. Just over 500 PWC employees and 100 mu­tual aid workers responded to the storm. More than half of those stayed at PWC's headquarters for five days on a 24/7 basis, sleeping on cots and airbeds. Many remained on hand despite power outages and flooding at their homes.
PWC linemen worked 16-hour shifts and were able to get 97 percent of the utility's 50,000 customers who lost service back on line within 96 hours, the vast ma­jority of them within 30 hours. A week after the storm, only 33 customers remained without service because of needed home repairs and inspections.
During the storm, PWC's water distribution system had no interruptions or water quality issues. PWC's water and wastewater plants, all located along the Cape Fear River, remained operational throughout the storm.
Debris removal underway
Hurricane debris removal is underway, but of­ficials say it could take weeks. Contractors have been hired by the city and county and are prioritiz­ing rubble removal based on which areas where Hurricane Florence generated storm debris can be safely accessed.
Residents of impacted areas who can safely do so are asked to place any storm-generated rubbish roadside. Place logs (no length restriction), plants and larger tree branches in one combined pile at the curb. Place leaves, small branches and twigs, pine straw and pine cones in yard waste containers or separate piles. Construction rubble such as building materials, carpet, drywall, furniture, lumber, mat­tresses and plumbing items should be piled sepa­rately also. Only loose debris will be collected.
Regular household trash, recycling and bagged debris of any kind should be separated from storm debris and be put at the curb on regularly scheduled pickup days. Do not place rubbish near a water me­ter, fire hydrant or beneath a power line. It should be placed in the public right-of-way but not in the street.
News and information
The Fayetteville community had the ad­vantage of reliable news and information during Hurricane Florence like never before. The city of Fayetteville and county of Cumberland com­bined their resources in a joint media opera­tions center, bringing together a dozen staff­ers whose job was to keep residents updated during and after the storm.
Local governments and the Public Works Commission provided special coverage on their websites. A week without cable television and live over-the-air coverage demonstrated the impor­tance of people having battery-equipped portable radios. Emphasis was placed on the importance of keeping the public informed so as to prevent rumors and misinformation.
Recognizing the public's widespread use of social media, Fayetteville Police and PWC used Facebook to keep the community informed. The city used its new mobile app to provide storm updates. Tradi­tional news media provided information, but power outages limited television coverage. WRAL-FM preempted regular programming and simulcasted the audio of its sister television station on the radio during the week.