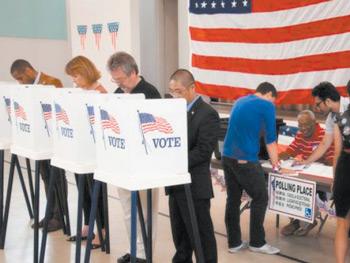 Labor Day historically launches annual election campaigning. This year's election is a so-called off-year, or midterm, election because it is midway through the term of the U.S. president. It's an off year for Fayetteville City Council, but impor­tant county and state elections will be held in November.
October is an important and busy month for the fall election. Voter registration in Cumberland County closes Oct. 12. Residents who cast ballots on a regular basis remain per­manently registered so long as they continue to vote. The board of elec­tions periodically purges those who do not vote from the books.
Wednesday, Oct. 17, one stop voting begins for the November election. It's a two-week early voting period that ends at 1 p.m. Oct. 31.
The last day to request an absentee ballot by mail for the general election is Oct. 30. Absentee ballots, which are the last to be counted, can be delivered two ways, either by hand to the board of elections no later than 5 p.m., Nov. 5, or by mail. Mailed ballots must be postmarked and received no later than the third day following the general election to be counted.
Also on Nov. 5, ballot requests for the sick and disabled begin at 8 a.m.
The first Tuesday in November, which is the 6th, is election day.
There's a popular expression that all elections are local, and that's never more important than in off years. Elec­tions in the United States are adminis­tered in a highly decentralized process through which each state shapes its own election laws, which in turn shape the roles counties play. The nation's 3,069 counties traditionally administer and fund elections at the local level, in­cluding overseeing polling places and coordinating poll workers for federal, state and local elections.
This is an off year for presidential and North Carolina gubernato­rial elections, but voter turnout will determine who at least one new local congressman will be. The state's 9th Congressional district is without an incumbent. The 8th Congressional district is also up for grabs, but a three-term incumbent has the edge. There is no U.S. Senate race this year.
The two state senators represent­ing Cumberland County in the North Carolina General Assembly, one a Democrat and the other a Republi­can, face challengers. The four mem­bers of the North Carolina House of Representatives have opponents. Cumberland County's appointed sheriff is being challenged and is seeking election for the first time. The district attorney does not have an op­ponent. Two women are running for the Superior Court clerk's office, one of whom is serving in an appointed position. Three local superior court judges and seven lower court district judges are up for election.
Cumberland County Commis­sioners serve staggered terms. This year, the three incumbents elected at large face challenges from two oth­ers. The two incumbent candidates elected from District 1 have in effect been re-elected since they have no opposition.
The board of education is structured similarly. This year, the three at-large members are seeking re-election. The six board members elected from indi­vidual districts are in an off year.
For information about where or how to vote, visit http://www. co.cumberland.nc.us/departments/ election-group/elections.