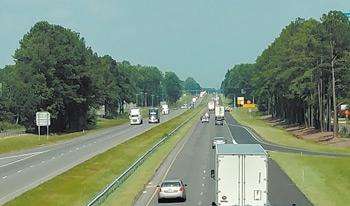 Twenty-five miles of interstate highway in Cumberland, Harnett and Johnston counties are going to be widened from four to eight lanes. Construction on a local segment of I-95 will begin next year, according to the North Carolina Department of Transportation. The public is invited to attend an open house meeting to review the accelerated schedule and preliminary map designs. The public meeting from 5-7 p.m. will be held Thursday, Oct. 18, at the Falcon Children's Home Activity Building in Falcon.
The DOT plans to award a contract next spring to a design and construction team that will widen I-95 from Eastover exit 56 in Cumberland County to Dunn exit 71 in Harnett County. In 2020, the DOT is scheduled to award another contract to extend the interstate expansion beyond exit 71 to exit 81 in Benson, where I-95 and I-40 intersect.
I-95 additionally will need new interchanges and overpasses in Harnett County. "We have to rebuild six interchanges with new bridges and overpasses and ramps and loops," said DOT spokesman Andrew Barksdale. "They are not up to modern design, and the bridges are substandard for height." The structures will be raised in height to better accommodate truck traffic.
Crashes and overall traffic safety are some of the factors used by DOT in determining which projects will get funded in the Transportation Improvement Program. Fatal and otherwise serious crashes have occurred regularly in Eastover, and north into Harnett County where the highway has narrow medians and archaic metal guard rails.
"I-95 is our East Coast main highway and a vital link in our state for business expansion, residential growth and tourism," said Grady Hunt, who represents Division Six on the N.C. Board of Transportation. "This will be a significant investment in North Carolina."
The projects will mark the state's first substantial upgrade of I-95, which was funded in the 1950s as part of what became known as the Eisenhower interstate system. The combined projects are estimated to cost more than $700 million in land acquisition and construction, including appropriations the state transportation improvement program and a $147 million federal program known as Infrastructure for Rebuilding America. The DOT was awarded the federal grant this summer. State transportation officials hope to widen other sections of I-95 in future projects.
The open house Oct. 18 will be informal, designed to allow people to examine maps, talk with DOT representatives and provide feedback. The department will accept comments on the projects through Nov. 2.
For more information or to send comments, contact Scott Pridgen at Division Six at 910-364-0603 or on- line at gspridgen@ncdot.gov; or P.O. Box 1150, Fayetteville, NC, 28302.
NCDOT will provide auxiliary aids and services under the Americans with Disabilities Act for disabled persons who wish to participate in the Oct. 10 workshop. People requiring special services should contact Diane Wilson at pdwilson1@ncdot.gov or 919-707-6073.