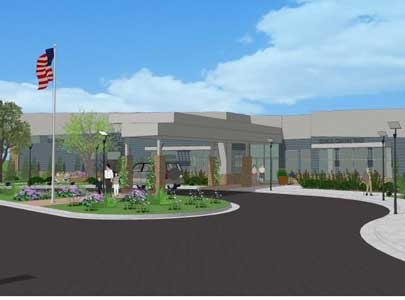 The city of Fayetteville is making its first significant addition to facilities for seniors in decades. The city broke ground last week on the much-anticipated Senior Center West. It is being built along the western edge of Lake Rim, in the vicinity of 7510 Old Raeford Rd. Senior Center West is the sixth project to get underway with funds generated by the $35 million Parks & Recreation Bond Referendum secured in 2016.
The building will be a 19,000-square-foot lakefront property with a fitness room and a warm-water indoor pool. It is one of two nearly identical facilities funded in the referendum. A location for the Senior Center East has not yet been selected, but "the city is working on partnering with (Fayetteville State University) on the site located at the corner of Murchison (Road) and Filter Plant (Drive)," said city spokesman Nathan Walls. "That partnership will be presented to council for consideration soon."
The new senior centers will address two growing needs in the community: providing more space and adequate facilities in Fayetteville to assist the heavily used Senior Center on Blue Street and providing quality programming and activities to a growing senior citizen population.
Studies from the National Council on Aging have shown the need for more senior citizen activities as statistics have shown that the more seniors remain active, the better quality of life they have and the longer they live. Senior centers focus on several wellness factors in efforts to improve those numbers: emotional, intellectual, physical, social, spiritual and vocational wellness.
In addition to the Blue Street Senior Center, Fayetteville/Cumberland Parks and Recreation operates the Tokay Fitness Center for Seniors and the Dorothy Gilmore Therapeutic Recreation Center. Tokay provides residents six treadmills, six stationary bikes, six ellipticals, three lower body and six upper body Nautilus machines, plus an abdominal machine, dumbbells, exercise mats, exercise balls and table tennis tables. Physical Activity Readiness Questionnaires must be filled out before using the equipment.
The Gilmore Center on Purdue Drive offers "recreation and leisure programs to people with disabilities to improve functional abilities, enhance well-being and facilitate independence," according to the city's website. The staff of the Gilmore Center uses recreational services and leisure experiences to help people with limitations make the most of their lives.
The new senior centers are not operated jointly under city/county auspices. Cumberland County Commissioners chose not to participate in the bond referendum. So now city government keeps separate books for projects undertaken as the result of the $35 million Fayetteville package. Payrolls and other operating expenses for the senior centers have not been publicly discussed.
Splash pads at Kiwanis, Massey Hill and Myers Park recreation centers have already been constructed and opened since passage of the bond issue and initial sale of bonds. Other completed projects include Seabrook Park and pool deck upgrades and the new Massey Hill universally accessible playing field. It has been utilized by Buddy Sports programs, which have seen a 15 percent increase in enrollment since the field opened.