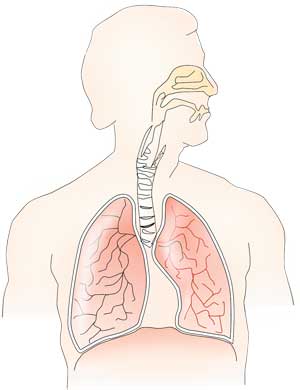 When visiting the hospital, most people have no problem recognizing the doctor, nurse and even the lab technician. But how many can identify the respiratory therapist?
Respiratory therapists are often those unsung heroes who care for our loved ones – or us – at crucial times. Respiratory therapists touch the lives of many. The work of the respiratory therapist may involve a patient receiving supplemental oxygen or perhaps a life-saving respiratory medication to ease the work of breathing during a crisis. In other situations, the respiratory therapist may assist individuals who are on advanced life-support equipment while in the emergency room or intensive care unit.
Respiratory therapists are highly trained pulmonary specialists who effectively assess, educate and treat patients with heart and lung problems. They apply their expertise to every patient population, from newborns and infants to children and adults. They work in all areas of hospitals, doctor's offices, diagnostic centers, home health, education, research, rehabilitation centers and medical equipment sales.
These practitioners are highly skilled in critical thinking, patient assessment and cardiopulmonary diagnostics, cardiopulmonary physiology and pathophysiology, pharmacology, advanced life support, evidence-based clinical care and advanced biomedical engineering and technology.
According to the U.S. Department of Labor Bureau of Labor Statistics, the median pay for respiratory therapists in 2017 was $59,710 per year. The entry-level education level required to enter the profession is an associate degree from a CoARC-accredited program. CoARC, or the Commission on Accreditation for Respiratory Care, is a governing body that sets standards for respiratory therapy programs to ensure they prepare highly competent respiratory therapists for practice, education, research and service. The Bureau of Labor Statistics also projects that the respiratory therapy profession will grow by 23 percent within the next eight years, which is cited as being much faster than average.
Fayetteville Technical Community College offers an associate of applied science degree in respiratory therapy. The program is an advanced-level program that fully prepares the graduate to enter the profession right away and begin quality patient care and practice in all areas of respiratory therapy. The associate degree also prepares students to continue education and pursue degree advancement, such as a bachelor's degree.
FTCC's program accepts 24 students every August and runs for five consecutive semesters. Students will complete classroom lecture, laboratory skills practice and clinical rotation and application during each of these semesters. Students focus on patient assessment, critical thinking, diagnostics, and skills development and application in all aspects of the professional practice of respiratory therapy. The program accepts applications from Nov. 1 through Jan. 30 every year for admittance into the program during the following August class.
FTCC's respiratory therapy program is competitive, so it is important to know and follow all the procedures and requirements for the program.
Those interested in becoming a respiratory therapist can begin their journeys at FTCC by calling 910- 678-9869 or emailing thompsok@faytechcc.edu.