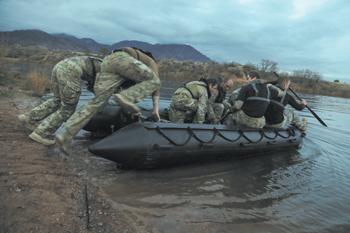 The U.S. Army Special Operations Command wants to recruit the small number of soldiers who are qualified to join more high-intensity career fields like Green Berets, special operations aviation, civil affairs and psychological operations. Fort Bragg's Special Operations Recruiting Battalion wants to hire more than 2,000 soldiers to fill these elite job slots.
"A lot of people, when they hear 'special operations,' immediately either go to the Ranger regiment or Special Forces, and all they think about is guys blowing stuff up and hunting people down — and we do a lot more," said Maj. Adam Paxton, operations officer for the Special Operations Recruiting Battalion.
Paxton, himself a Special Forces officer, wants 469 soldiers each to join civil affairs and psychological operations units. The Army is looking for helicopter repair technicians for the 160th Special Operations Aviation Regiment. The Army also needs 1,400 Green Berets.
"Less than 1 percent of Americans actually can — and want — to serve in the military," SORB recruiter Sgt. 1st Class Michael Harter told Army Times. "Then you're asking 18 percent of that 1 percent to do something a little bit more tough."
In spite of the pop culture mystique of special operations, it's not easy to get people qualified. Conventional wisdom suggests that soldiers would be beating down a recruiter's door for the chance to serve with Special Forces. Not so, according to Paxton. Recent research shows that despite the dangers, many soldiers also want to deploy overseas. That was a conclusion of a RAND Corp. study released earlier this year about new soldiers.
Army Special Operations Command units deploy and work behind the scenes in South America, Africa, Asia and beyond. There are a handful of things one might find in the special operations forces community that aren't available elsewhere in the Army. There's advanced schooling and special pay that go along with it. Demolition training, dive training, sniper school, airborne qualification, even languages can pay up to several hundred dollars extra a month.
There are also opportunities for rapid promotions, particularly in Special Forces.
There are also bonuses available across Special Operations Command, and big reenlistment bonuses are available across USASOC. Special Forces soldiers can receive between $4,400 and $72,000 to re-enlist, depending on rank, length of contract and special skills. For psy-ops, it's between $6,300 and $72,000. If all that sounds appealing, the next step is to reach out to the SORB.
Though Special Forces has been open to women since early 2016, no women have completed the qualification course, until now. For the first time, a female soldier has completed the initial Special Forces assessment and selection process. Recruiters try to bring female officers and NCOs from the psy-ops or civil affairs communities to SOF. And they work with Army Recruiting Command to make sure the conventional Army recruiting machine is bringing in the high-quality recruits Special Operations Command will need.