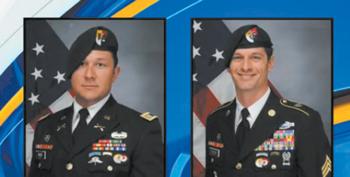 Two Fort Bragg soldiers were among four troops killed last month in Afghanistan when a roadside explosive device destroyed their vehicle. Capt. Andrew Patrick Ross, 29, of Lexington, Virginia, and Sgt. 1st Class Eric Michael Emond, 39, of Brush Prairie, Washington, were members of Fort Bragg's 3rd Special Forces Group.
The others were Air Force Staff Sgt. Dylan J. Elchin, 25, of Hookstown, Pennsylvania, and Army Sgt. Jason Mitchell McClary, 24, of Export, Pennsylvania. Elchin served with the 24th Special Operations Wing at Cannon Air Force Base, New Mexico. McClary died several days after being hospitalized in Landstuhl, Germany, as a result of injuries sustained in the blast. He was with the 4th Infantry Division at Fort Carson, Colorado.
The incident is under investigation, according to NATO's Resolute Support mission to train and advise Afghan forces. It was the deadliest attack against U.S. forces in Afghanistan this year.
New Cumberland County Commission leadership
Cumberland County Commissioners earlier this month selected Dr. Jeannette Council to serve as chairperson in 2019. Marshall Faircloth was named vice chairman. Commissioner Michael Boose cast the lone dissenting vote. He had asked commissioners to support him as vice chairman, which would have put him in line to become chairman in 2020.
Council was appointed to the Cumberland County Board of Commissioners 18 years ago and began serving as a District 1 representative in 2002. She has been re-elected every four years since.
Council has previously served three terms as the board's chair. She said she wants to end the board's committee structure and instead wants commissioners to meet monthly for an agenda review session.
Commissioners Larry Lancaster, Charles Evans and Glenn Adams, who voters re-elected in November, also took their oaths of office. Members of the seven-person board serve staggered terms.
Fayetteville baseball half-season tickets available
The Fayetteville Woodpeckers are offering half-season ticket packages for fans. The Single-A Advanced minor league baseball affiliate of the Houston Astros is offering two packages. One is a Friday package that includes all Friday home games. The other provides tickets for all Saturday home games. Both plans also include opening day and the July 3 celebrations.
These 35-game packages can be purchased on the Woodpeckers' website at www.fayettevillewoodpeckers.com or at the Woodpeckers' front office at 225 Ray Ave. Half-season packages start at $325.
The Houston Astros own and operate the local farm team and agreed to a 30-year lease with the city of Fayetteville.
FTCC Board gets new member
Fayetteville attorney Chandan Shankar joined the Board of Trustees of Fayetteville Technical Community College. Shankar is a lawyer with the Richardson Firm.
Existing board members Charles E. Koonce and David R. Williford were reappointed for an additional term. Shankar was appointed to a four-year term by Gov. Roy Cooper. The Cumberland County Board of Education reappointed Koonce, and the Cumberland County Board of Commissioners named Williford.
Legislation establishing North Carolina community colleges required that board memberships represent various elements of their communities. The FTCC Board of Trustees also re-elected Ronald C. Crosby Jr. as chairman of the board, Dr. Linwood Powell as vice chairman and Delores P. Ingram as secretary.
FTCC was established in 1961 and serves more than 40,000 students.
New Fayetteville Habitat community
Oakridge Estates at Bunce and Old Bunce roads is a collaborative project of Fayetteville Area Habitat for Humanity and the city of Fayetteville to build 47 single-family homes on 14 acres. The site was once a dilapidated mobile home park. The formal kick-off event marked a historic partnership to provide affordable housing in an underserved community.
Gov. Roy Cooper was among the dignitaries on hand. Individuals and families displaced by hurricanes Matthew and Florence will occupy least 15 of the homes. The city's role in the project is to serve as an investor while Fayetteville Area Habitat for Humanity's role as the developer is to ensure affordability of the newly constructed homes.
Habitat for Humanity brings people together, including the eventual home owners, to build homes and revitalize communities.
Photo: Capt. Andrew Patrick Ross (left) and Sgt. 1st Class Eric Michael Emond (right)