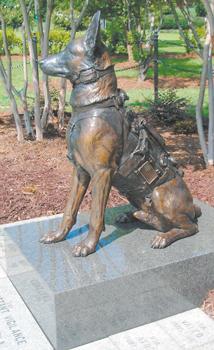 U.S. military working dogs are possibly the most unsung members of the fighting force. They and their handlers from every military service are deployed worldwide to support all kinds of missions. Hundreds of dogs have been used to aid troops in Afghanistan since the U.S. arrived in 2001 to oust the Taliban from power. They train for a variety of tasks, including detecting explosives and apprehending combatants. About 1,600 dogs are either in the field or helping veterans, the military said.
An Army ranger and his dog were killed during a recent clash in Afghanistan, military officials confirmed after the dog's unofficial biography began circulating on social media. The dog, named Maiko, and Sgt. Leandro Jasso — whose death was previously reported — were fatally wounded during a raid against al-Qaida militants on Nov. 24, military officials said. Jasso, 24, and his dog were hit by gunfire during a mission to take out Al-Qaeda- affiliated militants.
The 7-year-old war dog was leading Rangers into a compound when at least one militant fired at him, revealing the militant's position, which the Rangers then targeted, according to the dog's biography. Like many of his human counterparts, Maiko had served several tours in Afghanistan and conducted more than 50 Ranger-led raids, the biography said.
While many dogs train for specific tasks, multipurpose canines like Maiko are highly skilled and must undergo a rigorous selection process. Maiko had been trained in patrolling, tracking, bomb detection and apprehension functions.
On July 27, 2013, the first bronze statue of a Special Operations Force K9 was unveiled on the grounds of the Airborne & Special Operations Museum in Fayetteville. More than 2,000 people gathered to honor brave K9s and remember what they have done for our country. The statue depicts a life-size Belgian Malinois wearing its full deployment kit.
Special Operations Forces dogs are called super dogs. They parachute from planes with their handlers and can track enemy forces in difficult conditions. Most U.S. military war dogs are German and Dutch shepherds and Belgian Malinois breeds, said Army Col. David Rolfe, director of the Defense Department's Military Working Dog Program. That's also true of K9s involved in police work. The Fayetteville Police Department's dogs are bred and initially trained in Europe.
The breeds are high-strung, "very aggressive, very smart, very loyal and very athletic," Rolfe said. Dogs have long been recognized as "force multipliers" by military fighting forces around the world for generations, Rolfe noted. Egyptians, Greeks, Persians and Romans used war dogs. The Roman Empire, starting with Marcus Aurelius, used dogs in combat.
The now extinct Molossus dog was the strongest breed known to the Romans and was specifically trained for battle. The Romans often coated them in protective spiked metal collars and chain mail armor, arranging them into attack formations.
The first official use of dogs for military purposes in the United States was during the Seminole Wars.