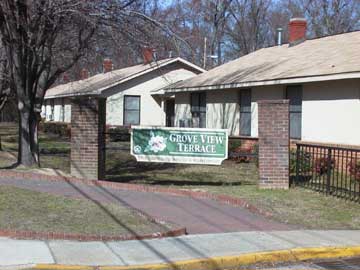 The oldest public housing complex operated by the Fayetteville Metropolitan Housing Authority is about to become the newest. The project, which used to be known as Cross Creek Court and is off Grove Street, has been demolished. The housing authority is bringing back the original name. The apartments that will replace what most recently was called Grove View Terrace will be named Cross Creek Pointe.
It will feature modern apartments like those off Old Wilmington Road that were built eight years ago in what was known as the HOPE VI project. The estimated 30 acres of property between Grove and Lamon Streets will not only improve living conditions of tenants, the complex will enhance the appearance of the neighborhood.
"One reason city government supported the federal project was because it's considered a gateway to the city," said Dawn Weeks, executive director of the housing authority, in an interview with The Fayetteville Observer.
Cross Creek Court was renamed Grove View Terrace 30 years ago in a public relations effort to dissociate the area from rampant crime that was occurring there. "The project originally had 212 dwelling units. Fifty-six were constructed in 1941, and the remaining 156 were built in 1950," Weeks told Up & Coming Weekly.
Cross Creek Pointe will have two-and three-story buildings with 272 units ranging in size from twobedroom apartments of 1,015 square feet to three-bedroom apartments of 1,239 square feet. There will be a community building, playground and laundry facility. Weeks said that during the land preparation and construction process, some families chose to move to other FMHA-owned housing units. Others moved into HOPE VI units while others accepted Section 8 vouchers. The relocation culminated in 2017. Families that relocated from Grove View Terrace who desire to move back to the new Cross Creek Pointe community will have the option to do so, if they remain in good standing.
Cross Creek Pointe apartments will have air conditioning and other modern amenities that the original apartments did not. The $40 million project will help reduce the city's shortage of safe, affordable housing, Weeks noted. The FMHA is the co-developer, along with United Developers.
The FMHA is a federal agency funded primarily by the U.S. government. Local, state and private funds combined with federal grants will pay for the new project. "The new construction is expected to begin in February or March 2019 and is expected to take up to 18 months," Weeks said. "The units will be similar in appearance to HOPE VI units."
The FMHA is one of the first in the state to use thenew Rental Assistance Demonstration program for Cross Creek Pointe. It will resemble a modern apartment development with streets, sidewalks and no hint of the days 70 years ago when public housing had an unfortunate racial segregation stigma.
Cross Creek Court was built for white military families. The then-Cape Fear Court, later redesignated Delona Gardens and Campbell Terrace off Old Wilmington Road, were for black families. Over time, both of Fayetteville's original public housing projects became occupied mostly by African-American individuals and families.
After World War II, racial segregation and inequality within the U.S. came into sharp focus on the world stage. President Harry Truman appointed a special committee to investigate racial conditions that defined a civil rights agenda. Truman issued a executive order that abolished racial discrimination in the military.