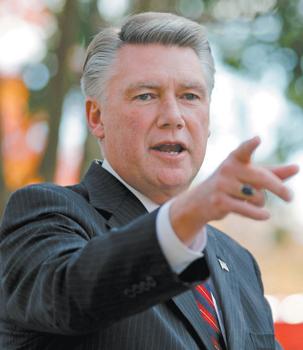 The North Carolina Board of Elections and Ethics Enforcement is evaluating tangible evidence of voter fraud in Cumberland and Robeson counties. Robeson is one of the counties alleged to have been significantly involved in election irregularities in the 2018 9th Congressional District race.
The state is investigating allegations that Harry L. Faust, 34, of Fayetteville and Lumberton voted twice using different addresses. Documents obtained by Up & Coming Weekly purport that Faust registered and voted first in Robeson County Oct. 22.
An email sent by Cumberland County Board of Elections Director Teri Robertson to the state board of elections' chief investigator said Faust voted in Fayetteville, where he was already registered, Nov. 2. "That case is under investigation, and I cannot comment further," said Patrick Gannon, a spokesman for the state board.
There is no apparent record of Faust living at the Cattail Court address in East Fayetteville that he claimed on registration documents. He is, however, a former resident of 785 Rose Ct. in Lumberton, which is the address he listed on forms there.
Other public records indicate Faust is a registered sex offender. He spent a year in prison after being convicted in 2013 of taking indecent liberties with a child. He gave Rose Court as his address at that time.
Robertson said that while reviewing duplicate voter information, a board of elections staffer found documentation that Faust had voted twice. The office of the state board says on its website that it "works in conjunction with County Boards of Elections to ensure that elections are conducted lawfully and fairly."
It is unclear whether findings in the Faust case will be presented during an evidentiary hearing into allegations of misconduct during the 9th Congressional District election campaign.
Among the allegations are that Bladen County businessman Leslie McCrea Dowless, who worked for Republican Mark Harris' campaign, coordinated an effort to collect and fill in, or discard, the ballots of Democratic voters who might have otherwise voted for Harris' opponent, Democrat Dan McCready.
The board initially planned to hold the hearing Dec. 21, 2018, but it was rescheduled for Jan 11. Last week, the board put the hearing off again saying it needed more time to continue its investigation into illicit campaign activity. Harris beat McCready by 905 votes of 283,317 total votes cast.
The elections board refused to certify the results, citing an unusually high number of requested absentee ballots, many of which were unreturned, in rural Bladen County and neighboring Robeson County.
The 116th House of Representatives was sworn in Jan. 3 with a Democratic majority. The party flipped 40 seats in November. The local congressional district election is the only one undecided. The state board of elections appears to be leaning toward calling a new election to settle the issue.
Harris' narrow victory over incumbent Rep. Robert Pittenger, R-N.C., in the Republican primary is also under scrutiny, with new attention on the disproportionate number of absentee ballots — 96 percent — that Harris won in Bladen County. Pittenger said he will not challenge Harris if a second primary is held.
Photo: Mark Harris