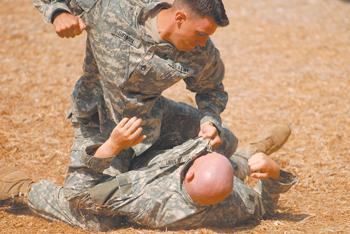 Two Marines and a Navy corpsman are under investigation in the death in northern Iraq of a Lockheed Martin contractor from Fayetteville. The New York Times reported that the military contractor was severely injured in a brawl on New Year's Eve in Erbil, Iraq, and was airlifted to Landstuhl, Germany. The Daily Beast identified the Lockheed contractor as Rick Rodriguez, a former Green Beret with nearly 20 years of service in the Army.
Rodriguez's wife and four children, who live in Fayetteville, were flown by the military to Germany and, according to an anonymous U.S. military source, decided to take him off life support Jan. 4. The Daily Beast reported that accounts of his death vary. One version, cited by the military source, stemmed from an altercation in an Erbil gym. Another involved a shooting competition.
In both scenarios, an atmosphere of bravado and trash-talking involving several people spilled over into a fight that left the contractor beaten and then stomped into unconsciousness. The military source said the incident had numerous witnesses.
"Lockheed Martin was saddened to learn of the loss of one of our employees, who was fatally injured while supporting Special Operations Forces within the ... area of operations in a noncombat related incident," a company spokesperson said in a statement.
The New York Times reported that the Marines and sailor under investigation in Rodriguez's death were assigned to a Marine special operations unit in Iraq. "MARSOC (Marine Forces Operations Command) is providing all requested support to investigators as they look into this incident," Maj. Nicholas Mannweiler told ABC News.
The former Green Beret's death is the latest in a series of serious episodes among special operations forces. The killing follows last year's death of Green Beret Army Staff Sgt. Logan Melgar in West Africa. He was assigned to special forces at Fort Bragg. Two Marine Raiders and two Navy SEALs have been charged with murder in that incident. Special Warfare Operator Chief Edward Gallagher was arraigned early this month at Naval Base San Diego in San Diego, California, on numerous charges, including the killing of a wounded ISIS prisoner.
A Defense Department review of ethics and standards within the special operations community is underway. The commander of U.S. Special Operations Forces issued a call to action because of what he called a "damaged culture of discipline in the ranks. Left unchecked, an eroded values system threatens to erode the trust of our fellow comrades, our senior leaders and ultimately the American people," Gen. Tony Thomas said in a message to the force.
The message called for "rapid and focused action to ... identify and address the underlying causes. Correcting this trend will take committed leadership at all levels of our command and personal moral courage by all," Thomas wrote.
On Jan. 1, Special Operations Command launched a 90-day internal review requiring senior field grade officers to get more involved with their troops, according to Thomas' message, first reported by Newsweek. The review also includes a look at instruction, culture, command climate surveys and research into behavioral health issues associated with operations.