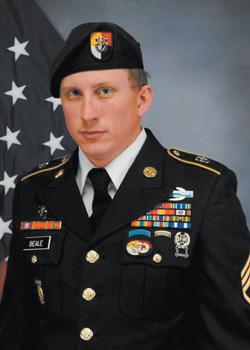 A Fort Bragg Green Beret died from enemy gunfire in Afghanistan Jan. 22. The Department of Defense announced the death of Sgt. 1st Class Joshua Z. Beale, 32, of Carrollton, Virginia. He was mortally wounded by enemy small-arms fire during combat operations in Uruzgan Province, the DOD said in a news release. SFC Beale was a member of the 1st Battalion, 3rd Special Forces Group at Fort Bragg and was posthumously promoted to sergeant first class, a spokesman with the U.S. Army Special Operations Command said.
"He will be greatly missed by everyone who had the fortunate opportunity to know him. We extend our deepest condolences to his family for this tragic loss," said Col. Nathan Prussian, commander of 3rd Special Forces Group. This was Beale's fourth combat deployment, and his third tour to Afghanistan.
Will the city join the county at its 911 center?
A nondescript, gated building that formerly housed U.S. Defense Department offices is the future home of Cumberland County's joint 911 communications and emergency operations centers.
Surveillance cameras are mounted on every corner of the structure. Perimeter wrought iron fencing is K-rated, which means the barrier provides anti-terrorism crash protection. County government bought the 17,000 square-foot building at the intersection of Ravenhill Drive and Executive Place for $5.1 million.
Consultants will develop designs and preliminary cost estimates for renovations, which Assistant County Manager Tracey Jackson said will cost as much as $17 million, including upgraded communications equipment.
"Building a new center would cost more than $30 million," Jackson said. "Our communications center and emergency operations center are outdated and obsolete."
Officials noted that the county will request state grant funding from the North Carolina 911 Board of Directors. The city of Fayetteville and county commissioners have been debating whether to undertake a joint effort to consolidate 911 operations for several years.
County Commission Chair Jeannette Council said she has been in touch with Fayetteville Mayor Mitch Colvin regarding the city's interest in a joint venture and is awaiting a response. "We have been talking about building a new emergency services center for years," she said. A "path is before us now, and we are excited about what lies ahead."
Congressional election still undecided
With the seating of a new North Carolina Board of Elections and Ethics Enforcement pending, the state's 9th Congressional District still has no representation in Congress. Much of Cumberland County is in the district.
A state board evidentiary hearing on alleged election improprieties was canceled when courts ruled the board's makeup was unconstitutional and dissolved it. In a separate court action, Superior Court Judge Paul Ridgeway denied Republican Mark Harris' effort to be declared winner of the November election. He said the incoming elections board doesn't have to certify the results of the election until the investigation into alleged absentee ballot fraud is completed.
"Why are we looking at a dramatic intervention by one branch of government into the functioning of another branch of government?" the judge asked. "That's an extraordinary step to ask a court to take."
Democratic leaders in the U.S. House have already said they won't seat Harris until the fraud allegations have been resolved. Harris led Democrat Dan McCready by about 900 votes following the election, but the state board has refused to certify that because of suspicious absentee voting results in Bladen and Robeson counties.
Gene Booth named new Emergency Services director
Cumberland County Manager Amy Cannon has announced the promotion of Woodson E. "Gene" Booth to director of Cumberland County Emergency Services. He succeeds Randy Beeman, who resigned in July to accept a position in Durham County. Booth has worked for Cumberland County Emergency Services for almost 15 years, most recently as the Emergency Management Program Coordinator and fire marshal.
"Mr. Booth has demonstrated that he has the experience, skills and character to lead our Emergency Services Department, and that was especially evident as he managed the Emergency Operations Center during Hurricane Florence," Cannon said.
Booth is a Hoke County native. He graduated from Cape Fear High School and has more than 21 years of public safety experience. During his tenure, he led the county's emergency management efforts for Hurricanes Matthew and Florence.
FSU/Lafayette Society collaboration
Wednesday, Feb. 6, at 6 p.m., The Lafayette Society will partner with the Fayetteville State University Black History Scholars Association to co-host a presentation by Dr. Robert Taber about the Haitian Revolution. Taber is assistant professor of History at FSU, where he has taught courses about U.S., African-American, Latin American and French history since 2016.
"His audience will be introduced to the major events, themes and personalities of the Haitian Revolution, and (he) will highlight the ways the revolution influenced the coming of the U.S. Civil War," said Lafayette Society President Hank Parfitt.
In 1775, slavery was legal everywhere in the Americas. By 1890, it was legal nowhere. The rebellion in Haiti, 1789-1804, is regarded as the most successful uprising of enslaved people in the history of the world.
The event will take place in the Rudolph Jones Student Center on the campus of FSU, and it is free and open to the public. For more information, email hankparfitt@embarqmail.com or visit www.lafayettesociety.org.
Photo: Sgt. 1st Class Joshua Beale