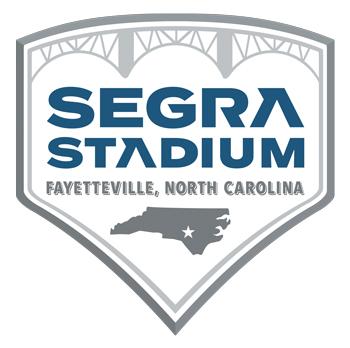 SEGRA Stadium, the new home of the Fayetteville Woodpeckers, will be unveiled to the public Saturday, April 13, at noon. The free event is called "Fayetteville Fans First Look." Residents will have a chance to see the stadium's amenities, including bars, several concession areas and a 360-degree concourse. Varied seating arrangements will be available — from the grandstand to a patio with foosball and cornhole. The ballpark will seat 4,700.
The Fayetteville Woodpeckers are an advanced single-A farm team of the Houston Astros.
"We invite Fayetteville residents out for this momentous occasion, which is historic for Fayetteville," said City Manager Douglas Hewett.
Many of the amenities at SEGRA Stadium are patterned after Spirit Communications Park in Columbia, South Carolina. There will be an outfield bar with 30 beers on tap; a centerfield grassy berm seating area, where fans can lounge on blankets or lawn chair; club seats; and luxury suites.
Individual game tickets and various ticket packages will be available. Learn more and purchase game tickets at www.milb.com/fayetteville.
Eradicating criminal records in Cumberland County
One-and-a-half million North Carolina adults have criminal records. Cumberland County District Attorney Billy West said these records can be a deterrent to employment and educational opportunities for former inmates. The county's expungement clinic has a two-year history of annulling the records of hundreds of individuals, according to West.
Details of this year's expungement clinic were announced Feb. 20 by West; Fayetteville Mayor Mitch Colvin; State Rep. Elmer Floyd, D-Cumberland; and Cumberland County Commissioner Charles Evans.
Three information sessions will take place for those who believe they may qualify. They are set for March 9 at 11 a.m. at Simon Temple A.M.E. Zion Church, March 19 at 6 p.m. at Kingdom Impact Global Ministries and March 30 at 11 a.m. at Lewis Chapel Missionary Baptist Church.
Juvenile offender funding
The North Carolina Department of Public Safety appropriates funding annually to Cumberland County for programs and services to serve juvenile offenders. The county is committed to ensuring that all eligible agencies are aware of the opportunity to apply for funding. Requests for proposals are being sought and are due in mid-April.
Access RFP information on Cumberland County's website, www.co.cumberland.nc.us. Select the business button at the top of the page to locate the form. Only local public agencies, 501(c)(3) nonprofit corporations and local housing authorities are eligible for funding.
Contact Cindy Tucker at ctucker@ co.cumberland.nc.us or call 910-678-7723 for more information.
Official named to fill Fayetteville finance vacancy
Jay Toland has been selected chief financial officer for the city of Fayetteville. Toland has served as interim chief financial officer for eight months.
He will oversee the finance department, which manages $200 million in revenues and expenditures. He is also responsible for oversight of the city's $145 million investment portfolio.
Before coming to Fayetteville, Toland was chief financial officer for Scotland County Schools in North Carolina. He earned his Bachelor of Science in business administration from the University of North Carolina at Wilmington and an MBA from the University of North Carolina at Pembroke. He has also completed other post-graduate work at East Carolina University and is a certified management accountant.
Toland is filling one of four vacancies of senior executives for the city of Fayetteville. "I plan to fill positions for Public Services Director, Assistant City Manager and Fire Chief. All are at different recruitment/selection stages in the order listed," said City Manager Douglas Hewett.
Alzheimer's fund raiser scheduled
Fayetteville Alzheimer's research enthusiasts pulled off an amazing feat last year. In three weeks, they raised the most money in the state during Fayetteville's Walk to End Alzheimer's. The team was dubbed Jaywalkers in honor of then-Assistant City Manager Jay Reinstein, who had just been diagnosed with early-onset Alzheimer's. The team came together on short notice and raised close to $30,000 for Alzheimer's research.
The team at PWC pulled their group together in a week and also raised several thousand dollars. Longtime Alzheimer's awareness activists from McKee Homes also contributed significantly.
This year's Walk to End Alzheimer's is set for Sept. 7 at Festival Park. The goal is to double last year's participation and fundraising. The entire community is invited to join the cause. For more information, visit the Alzheimer's Foundation website at www.alz.org or email amjulian@alz.org.
Local school system honored
Cumberland County's Board of Education has recognized the school system's communications and public relations department for receiving nine state awards from the North Carolina School Public Relations Association.
Cumberland County Schools was among 38 school districts in North Carolina to win Blue Ribbon Awards for effective school communications and public relations during NCSPRA's annual blue-ribbon awards ceremony earlier this month in Greensboro. CCS won awards in the electronic media category, publications category and special events/programs category.
Blue-ribbon awards are the highest honors a school district can receive from the NCSPRA.
"Our awards program is about recognizing the quality work of school public relations professionals and bringing attention to their outstanding efforts to support and promote our schools," said NCSPRA President Todd Hagans.