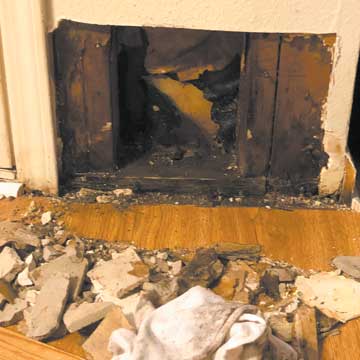 "I'll guarantee you, this has got to stop," declared Sen. Thom Tillis, R-N.C., March 7, during a hearing of the Senate Armed Services Committee, of which he is a member. Reports that private military housing companies are asking service members to sign agreements promising to keep silent about their poor housing conditions must stop immediately, Tillis told the service secretaries and chiefs of staff. "I've been a landlord before and it never would have occurred to me to say I want you to sign away your right to say you're living in inadequate conditions," Tillis said.
Senators have been investigating housing issues that some military families have faced, including black mold, pest infestations, water leaks and other problems. The senators claim they have been unable to get satisfactory responses from civilian housing managers.
Tillis said he learned about the agreements from families at Fort Bragg, when he and Army Secretary Mark Esper visited recently. Esper said it was the first time he'd heard about the agreements. Officials at Corvias Military Living, which is the property manager at Fort Bragg, could not be reached for comment.
Green Beret preliminary hearing canceled
An Article 32 hearing scheduled in a murder charge against Green Beret Maj. Mathew Golsteyn has been canceled. It now appears he could be headed for court-martial. Fort Bragg's U.S. Army Special Operations Command said USASOC's commanding general, Lt. Gen. Francis Beaudette, would consider the evidence and other matters concerning the charge.
A charge of felony murder was preferred against Golsteyn in December, more than eight years after the alleged incident in which investigators claimed he killed a Taliban bomb-maker after Afghan authorities had released the man.
Golsteyn maintains he acted under the laws of armed conflict. Prosecutors have declined to comment.
Electronic waste disposal drive
Getting rid of unwanted electronics can be cumbersome. North Carolina law prohibits the disposal of computer equipment, televisions and other electronics in landfills. An e-waste recycling opportunity is set for Saturday, Nov. 17, from 8 a.m. to noon at the Cumberland County Courthouse parking lot at 117 Dick St., Fayetteville.
Electronics that can be recycled include, but are not limited to, lamps, vacuums, televisions that are 50 inches or smaller in size, DVD players, radios, computers and small appliances.
Cumberland County Solid Waste Management will collect the electronics for recycling. Televisions larger than 50 inches, large kitchen appliances and hazardous waste materials can be dropped off at the Ann Street landfill or any of the container sites in the county.
The locations of container sites and operating hours are listed at co.cumberland.nc.us/solidwaste.
Massey Hill public art exhibit
A unique exhibit portrays "a special people and a proud history of the Massey Hill community," said former Fayetteville Mayor Tony Chavonne, who grew up in Massey Hill. A grouping of public artwork was recently unveiled in the new traffic circle at the intersection of Camden and Cumberland Roads.
"The Massey Hill Heritage Discovery Project is a great example of the positive impact that the Arts Council has in our community," Chavonne said. He added that the Arts Council of Fayetteville/ Cumberland County brought people together in a collaborative way to help support the arts while also telling the story of the former mill town.
Chavonne chaired the committee that worked with artists Michael and Leah Foushee-Waller of Hillsborough, North Carolina, to create the art that celebrates the historic textile industry.
The Arts Council committed $20,000 in artist fees, and the Massey Hill Heritage Discovery Project community group raised additional donations to support the project. The Community Foundation, Fayetteville/Cumberland Parks and Recreation, Massey Hill High School Alumni, Museum of the Cape Fear Historical Complex and The Fayetteville Area Transportation and Local History Museum provided additional funding.
'Maid Marian' presents a twist
The latest taste in Sweet Tea Shakespeare's "Honey" series, written by local playwright Jessica Osnoe, blends the familiar, spirited notes of the classic legend of Robin Hood with a zing from a new voice in the narrative: Maid Marian.
"Maid Marian," a new take on the familiar tale of adventure, bravery and friendship, explores what happens when a group of resourceful women take up arms against greed and injustice in a time of war and unrest. Fall in love with the new faces in this never-before-told Robin Hood tale.
The cast includes Jen Pommerenke, Laura Voytko, Linda Flynn, Evan Bridenstine, Arlyn Slade, Lee Jean, Michaela Kroll, Gabe Terry, Nelson Soliva and Karen Messaros.
Performances are scheduled for April and May at various local venues. For more information and to purchase tickets, call 910-420-4384 or email info@sweetteashakespeare.com.