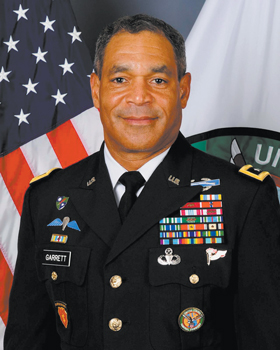 Recently promoted U.S. Army Gen. Michael X. Garrett has assumed command of Forces Command at Fort Bragg. Gen. Mark A. Milley, chief of staff of the Army, hosted the assumption of command ceremony March 21.
Garrett commanded U.S. Army Central at Shaw Air Force Base, South Carolina, before being assigned to Forces Command. FORSCOM is the largest organization in the Army and is responsible for ensuring combat soldiers are trained and prepared to deploy. It includes more than 750,000 active-duty, reserve and National Guard soldiers.
Garrett is originally from Cleveland, Ohio, and is a graduate of Xavier University in Cincinnati. He received his commission as an infantry officer following his graduation in 1984. In a 2010 profile for Xavier Magazine, Garrett noted he was the first member of his family to graduate from college.
His previous assignments include command of the 3rd Battalion, 325th Airborne Infantry Regiment, 82nd Airborne Division. He was named to lead U.S. Army CENTCOM in 2015.
Garrett replaces FORSCOM's acting commander, Lt. Gen. Laura J. Richardson. Her next assignment has not been made public.
Two fatal motorcycle crashes on the same day
A pair of recent Fayetteville traffic fatalities were tragically similar but had different outcomes. Both accidents involved motorcycles. Both mishaps occurred on Sunday, March 10.
A Fort Bragg soldier, Patrick A. McDill, 22, died when his motorcycle was struck on Yadkin Road near Horseshoe Road by Jasmyne Russell-Dicker, 24, of Sanford. She was charged with felony death by motor vehicle, driving while impaired and making an unsafe movement causing injury to a motorcyclist. Russell-Dicker was released from jail after posting a $15,000 bond.
The other crash took place on Bingham Drive at the intersection of Lakeridge Drive. Neron R. Pratt, 34, of Saint Pauls, who was operating a motorcycle, was pronounced dead on the scene by medical personnel. City police said the driver of the sedan that struck him, Fayetteville native Wendy S. Sutton, 28, did not sustain serious injuries, but her mother, Doris B. Sutton, 47, also of Fayetteville, was hospitalized.
Wendy Sutton faces felony charges of hit-and-run driving causing injury, misdemeanor death by vehicle, driving with a revoked license and making an unsafe movement. She is being held on $100,000 secured bond.
"It's definitely something the magistrate's office would have to answer for," said police spokesman Sgt. Shawn Strepay when asked about the difference in bonds given the drivers.
Heroism awards celebrates first responders
The Greater Fayetteville Chamber announces People's Choice Awards to be presented at the second annual Public Safety Valor Awards program on June 25, 2019. This event is presented by Highland Construction and Restoration and Manna Church to show community appreciation to first responders in the city and county and at Fort Bragg. The breakfast event will be from 7:30- 9:30 a.m. at Manna Church, 5117 Cliffdale Rd.
The general public may nominate first responders who have been observed in action during the period from April 2018 through March 2019.
Nominees must be currently employed by an emergency response agency and working in Cumberland County. Applications can be obtained on the Greater Fayetteville Chamber's website, www.faybiz.com, under Events-Valor Awards. They are due by April 1.
Additional nominees will be chosen by the chiefs or agency heads of law enforcement, fire/ rescue, and emergency management agencies serving Cumberland County.
There are three major awards: Certificate of Merit for outstanding work benefitting the department, Lifesaving Award in which personnel put their own safety at risk to save the life of another, and the prestigious Valor Award for incidents in which acts of heroism were performed under extreme risk.
The public is invited to attend — tickets are $25 and are available online at www.faybiz.com.
The first 'Occasion'
"Trauma: A Concert and Reflections" will take place April 17 at 7 p.m. at Holy Trinity Church, 1601 Raeford Rd. in Fayetteville, and on April 19 at 7 p.m. at Hugger Mugger Brewing, 229 Wicker St., Sanford. The "Occasion" will include folk music, drinks, visual aids and alone time with a handful of new best friends or strangers. The "Occasion" costs nothing.
"We're okay with sitting with grief and anger and sadness for a moment," said Jeremy Fiebig, an organizer of the group. "This first event is a concert that looks at mourning, trauma, broken spirits and the like. It's meant to be a kind of church service, but where the point is not to uplift, but to sit with tough stuff like loss and heartbreak."
The event is described as "not for the squeamish or for children, as we will be looking tough stuff square in the face," Fiebig added.
Photo: Gen. Michael Garrett