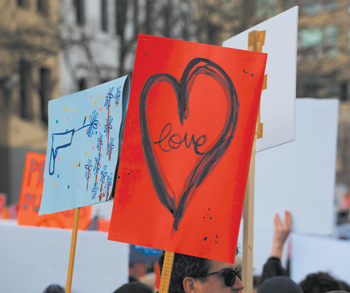 Fayetteville Technical Community College's Association of Students for Social Justice is in its early beginnings; the group has existed for less than a year now. Members are delighted at what they have accomplished in the community in such a short time, and they look forward to what the upcoming year has in store.
The ASSJ originated in the FTCC Sociology Department with the idea of connecting FTCC students with the local community to build meaningful relationships, create positive social change and help those in need. Members can develop their professional growth, explore their interests in socially relevant issues and participate in community activism.
The club is a student-led group that includes a multi-disciplinary team of FTCC students and faculty. It has student members from a variety of majors as well as faculty members from various disciplines. Its goal is to remain diverse by welcoming all students, faculty and staff.
Members of the club have been involved in several activities throughout the year. These include participating in the March for Our Lives rally held in Cumberland County last March and, most recently, the Rally for the Environment held in Cumberland County this past October. Members have also been active directly at FTCC through participation in various campus events, including FTCC Student Government Association's "Olympic games," a fun part of SGA's campuswide festivities for the Spring Fling and Fall Fling.
Most recently, the ASSJ was active at the FTCC Fall Festival by helping students register to vote for the November midterm elections.
The club also provides students with information regarding service-learning and community engagement opportunities. Throughout the year, ASSJ leaders provided students with opportunities to learn and participate in events like the 12th Annual Prevention of Child Abuse Conference, the Very Special Arts Festival, the Dogwood Festival and, most recently, the United Way Community Stand-down event. Club members are encouraged to participate in events they are passionate about and share their experiences with other members.
For the 2018 holiday season, the club collaborated with Seth's Wish in Fayetteville. Seth's Wish was established when a 9-year-old boy first asked his mom about helping the homeless. Seth's Wish is community-based and focuses on combatting issues of hunger and homelessness in Fayetteville.
ASSJ members share the goal of creating a service-learning culture at FTCC to help students use their academic and social interests to foster community involvement. Students who are hands-on in the community will have the advantage of learning cultural awareness, critical thinking and civic responsibility.
Students also benefit from participating in the ASSJ because their involvement can be listed on résumé s when preparing for job opportunities.
The ASSJ is just one of many clubs at FTCC. For readers who are considering taking classes, learn more or register now at www.faytechcc.edu or visit the Fayetteville, Spring Lake or Fort Bragg campus locations.
Questions about the Association of Students for Social Justice can be directed to Karen Boyd at boydk@faytechcc.edu or Pamela Collins at collinsp@faytechcc.edu.