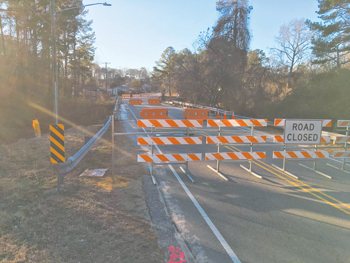 It has taken local and state officials more than two years to plan, design and figure out how to pay for a new bridge on Louise Street at the main entrance to Hollywood Heights off Skibo Road. The city closed the bridge in January 2017 after a routine inspection found support pillars had deteriorated, making the bridge dangerous. Hurricane Matthew also damaged the bridge in 2016.
A groundbreaking for the Louise Street Bridge took place March 25. "We've been waiting for this, and it's time," said Mary Scott, a neighborhood resident for 45 years. "We appreciate everybody that has been working for us. It is a very happy day."
Residents have had to use the Pritchett Road access point to reach their neighborhood since the main entrance was closed. A federal grant will reimburse the city 80 percent of the $1.8 million project cost. In May 2018, the North Carolina Board of Transportation added the bridge replacement project to its infrastructure improvement program. City Engineer Giselle Rodriguez said officials hope to have the new bridge open by August.
Fort Bragg team wins shooting competition
The host military gunners took home top prizes last month during the U.S. Army's International Sniper Competition. Twenty-one teams representing American and European armed services took part in a series of events designed to test competitors in sniper and reconnaissance tactical skills.
They competed March 17-22 at Fort Bragg. The top two places went to snipers from the U.S. Army Special Operations Command. The Marine Corps team came in third. They not only competed against each other but against time limits.
Instructors from the U.S. Army John F. Kennedy Special Warfare Center and School designed the events to challenge two-person teams in their ability to work together and test their speed and accuracy in various types of environments.
Local educator Fields honored
The North Carolina School Superintendents' Association and the North Carolina Alliance for School Leadership Development selected Dr. Jane Fields, Cumberland County Schools assistant superintendent for secondary education, as a recipient of the Dr. Samuel Houston Leadership Award. This annual award goes to a graduate of the Superintendents' Association Aspiring Superintendent Program, which is designed to empower transformational education leaders for North Carolina's public schools.
"This is a well-deserved honor for an outstanding educational leader," said CCS Superintendent Dr. Marvin Connelly Jr. "Dr. Fields has undoubtedly earned the respect of colleagues, students, staff and parents throughout our school system."
Fields is a product of Cumberland County schools and has worked in the district for 23 years.
PWC recognized by United Way
The Fayetteville Public Works Commission has been recognized again by United Way of North Carolina as a 2018 recipient of the Spirit of North Carolina Award and the Excellence in Community Spirit Award. "PWC has received the Spirit of North Carolina Award 13 times, and no other organization in the state has achieved this level of excellence," said Robert Hines, president of the United Way of Cumberland County.
Ninety-nine percent of Public Works employees pledged more than $130,000 during the annual United Way campaign. PWC was one of 33 companies that received the Spirit of North Carolina Award and one of just five to receive the Excellence in Community Spirit Award for efforts the judges felt exceeded the Spirit of North Carolina standards.
What happened to the Mini Page?
Fayetteville Observer Executive Editor Matt LeClercq says the newspaper's Mini Page is no more. "We made the tough decision in January to no longer print the Mini Page on Sundays as a way to cut expenses," said LeClercq. "Paper is our second biggest expense after people."
He noted that fewer youngsters read printed newspapers these days. The syndicated Mini Page has been around for decades as an educational effort focused on children's hand-printed pictures, games, trivia and puzzles. Universal Press Syndicate publishes the Mini Page, which is inserted in 500 newspapers in the United States and abroad.
LeClercq went on to write, "The reality in the news business today is that newspapers will have to continue to look for ways to control or cut expenses related to printing while focusing full-throttle on growing digital readers, subscribers and revenue."
The iconic Easter egg
The Cumberland County Cooperative Extension Service will offer a Better Living Series workshop, "The Incredible Egg," April 9 from 10 a.m. to noon at the Cumberland County Agriculture Center, 301 E. Mountain Dr., Fayetteville. Participants will learn about the egg to become "eggsperts."
The workshop will cover egg facts, nutritional information, egg cooking tricks, safe food handling tips and recipes. As a special part of the workshop, participants will create a decoupage egg.
For additional information, contact Susan Johnson at 910-321-6860. Or, to view a 2019 Better Living Series schedule and registration forms, visit cumberland.ces.ncsu.edu.