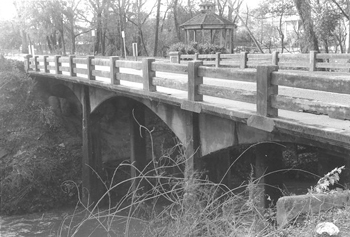 Residents and families of Heritage Place and parishioners of First Presbyterian Church will be happy to learn that Ann Street will soon be open to traffic. The Ann Street bridge over Cross Creek has been closed for nearly six years. Ann Street connects Bow Street with Grove Street downtown.
A fire, believed to have been set by people who are homeless, heavily damaged the structure in October 2013. The cost of building a new bridge is $1.6 million, according to city of Fayetteville spokesman Kevin Arata. This does not include design work and the acquisition of additional property.
"We had to design it so it would prevent homeless people from living under it," Arata said. "Nearby utilities created challenges for the design process … and we were challenged with permits and the fact that the bridge has historical ties."
Officials hope to open the new bridge this summer.
Another highway median under construction
Work has begun on converting the center turn lane on Cliffdale Road near Bunce Road into a raised median. The North Carolina Department of Transportation said median projects, which have been underway locally for several years, are designed to improve safety and reduce the risk of collisions. Motorists will encounter lane reductions in the work zone.
In neighboring Robeson County, drivers will have a faster and safer way to travel on U.S. 74, where a DOT contractor is building an interchange at Broadridge Road, south of Lumberton. Girders for the new overpass were set last month. Officials hope to have the work completed by fall.
Rural fire tax to increase
The Cumberland County Public Safety Task Force has voted to request that the fire district tax rate be increased by 3.75 cents per $100 valuation for rural residents of the county. The recommended model will be presented to the Cumberland County Board of Commissioners April 11, during their agenda work session.
Currently, residents in unincorporated areas pay 11.25 cents per $100 valuation, with 10 cents allocated to each of the 15 rural fire districts. The 01.25 cents tax is allocated to five low-wealth departments: Beaver Dam, Bethany, Godwin-Falcon, Stedman and Wade.
If approved for the next fiscal year by county commissioners, property owners will pay 15 cents per $100 valuation. Each of the volunteer fire departments would continue to receive funding calculated at 10 cents per $100, which totals approximately $7.4 million.
The new money generated by the tax increase will be used to strengthen overall fire service delivery through supplements, incentives and grants. Supplements would be allocated for departments that provide Emergency Medical Services and those few districts with more than one fire station.
Suspicious activity leads to deportation
A man who provoked Fort Bragg officials to close the post briefly last month will be deported, but he will not be charged with a crime, a federal judge has ruled. Nouran Ahmad Shihab Sueidan arrived at a gate at Fort Bragg on March 12 and told authorities he wanted to take a tour of the Special Operations facility.
Sueidan had a valid passport, but military police found that his visa, driver's license and car registration were expired. Authorities said he became combative as he was being questioned but did not try to force his way onto the post. The incident prompted Fort Bragg to briefly restrict access to the post.
A psychiatrist who examined Sueidan determined he has "a mental disorder that compromises his ability to stand trial," federal prosecutors said in court filing.
Prosecutors said they plan to turn Sueidan over to U.S. Immigration and Customs Enforcement for deportation. The Army did not reveal his home country.
New county government appointee
County Manager Amy Cannon has named Delores Taylor as director of the Cumberland County Community Development Office. Taylor has worked for CCCD for 20 years and served as interim director since July 2017.
As director, Taylor will manage a staff of 11 and an annual budget of approximately $2 million. The CCCD Office administers local U.S. Housing and Urban Development funds, which include funding of Community Development Block Grants, The HOME Investment Partnerships Program, Emergency Solutions Grants, and the Cumberland County Continuum of Care on Homelessness.
Taylor earned a bachelor's degree from the University of Alaska in 1998 and a Master of Public Administration from Arkansas State University in 2017.
Downtown Easter fun
Cool Spring Downtown District will host horsedrawn Carriage Rides with the Easter Bunny on Friday, April 19, from 11 a.m. to 7 p.m. The carriage will be decorated for Easter for family photos.
Tickets to ride with the rabbit are $10 for adults and $5 for children under 12. Each ride will last about 10-15 minutes. Early-bird rides between 11 a.m. and 1 p.m. are $5 for adults and children. Tickets are available on the day of the event at 222 Hay St., across from the Cameo Art House Theatre. For more information, visit www.visitdowntownfayetteville.com.