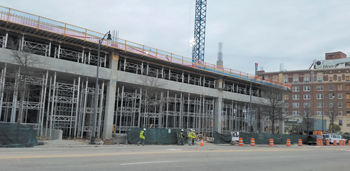 Fayetteville Mayor Mitch Colvin doesn't like the way city administration decided to include $8 million of projects in a proposed limited obligation bond issue. Council members D.J. Haire and Larry Wright also opposed asking North Carolina's Local Government Commission to approve the $8 million in bonds.
City administration proposes that the funds be used to cover $1.5 million for PCH Holdings' additional construction costs for the new Hay Street parking garage, plus $2.5 million in cost overruns associated with the baseball stadium. The proposal also includes $2.8 million for the new Lake Rim aquatic center.
City Council informally agreed to the project April 8. The official vote on the bond is scheduled following a public hearing on May 13. Approval by the local government commission would not require the city to fund the projects. It would authorize officials to do so if approved at a later date.
The $1.5 million that PCH Holdings has asked the city for would be in addition to $14.8 million the city has already borrowed for construction of the five-story parking deck on Hay Street. The parking deck will not be for general public use but will serve the private firm's seven-story office building and separate hotel building, which will be built atop the garage.
General contractor Barton Malow submitted $2.58 million in cost overruns resulting from rising costs of construction materials for the new Segra Stadium.
Colvin said it was premature to be approving bonds when the city has not begun negotiating with the parking deck developer about its $1.5 million request. "I don't think it's responsible to prepare to borrow money that you have no plans to (borrow)," he said.
"I'm a little squeamish to go that route," Colvin said in a dinner meeting before the regular council session. Colvin added that approving the resolution to ask the local government commission to approve the bond spending "makes it tougher to explore other options or negotiate."
Councilmen Jim Arp and Bill Crisp said during the dinner meeting that they would prefer the city find a different way to pay for the aquatic center without financing it. Crisp pointed out that the city included funds for the Westover pool in its regular budget a few years ago. Other city fathers noted the city has $1.9 million in funds that weren't spent on other projects that could be used for the Lake Rim pools.
The city's senior management team came up with the idea of the limited obligation bond project without the knowledge of council members who less than a week earlier agreed to negotiate the increased cost of the parking deck.