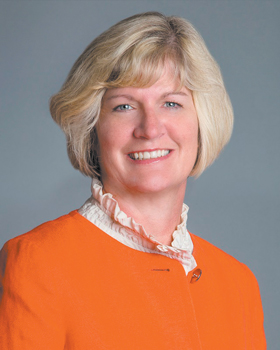 The board of directors of the Fayetteville Symphony Orchestra has announced Christine Kastner's departure as president/CEO of the orchestra, effective in June. Kastner has accepted the position of executive director of the North Carolina Master Chorale in Raleigh. The announcement appeared in a news release issued by symphony board chair Joy Miller.
"Chris has played a critical role in the development and success of the orchestra since assuming the position in November 2011," Miller said.
Under Kastner's leadership, the FSO increased the number of concerts performed and expanded its youth outreach with the addition of the Fayetteville Symphony Youth Orchestra, youth summer camps and an after-school Suzuki violin program. Miller added that the symphony has made significant progress in its endowment, providing a source of long-term sustainability for the FSO.
Crime Stoppers solves major drug cases
Fayetteville's Crime Stoppers tip line has recently contributed to the arrest of six people in three separate instances. Fayetteville Police received anonymous tips about suspicious residences. The most recent case came to light April 23.
Police received a Crime Stoppers tip about a residence on Rodwell Road. Officers were able to obtain a search warrant for the house and seized 5,188 dosage units of LSD, 8.9 grams of heroin, 2.6 grams of fentanyl, 12 grams of MDMA and $1,185 in cash.
Anthony Michael Maerten, 31, and Cindy Vanessa Caballero, 20, both of the Rodwell Road address, were charged with numerous felony drug counts and given $530,000 secured bonds.
Similar investigations resulted from Crime Stoppers tips on Lawrence Avenue and Suzanne Street. Leonard Davis, 40, of Lawrence Avenue, was charged with trafficking and manufacturing cocaine, conspiracy, and felony maintenance of a dwelling for narcotic use. He posted bond. Michelle Whitaker, 42, was charged with identical crimes and, also posted bond.
In the other case reported by city police, officers got a lead about a home on Suzanne Street. Investigators found an AK-47 style assault rifle, nearly 1 pound of marijuana and various items of drug paraphernalia. Sergio F. Weeks, 32, and Alysha J. Smith, 25, face numerous drug charges.
Weeks was also charged with possession of a firearm by a felon and endangering the life of a child. Police discovered his rifle under the bed of a 2-year-old. Both posted bond and were released from jail pending trial.
"The anonymous tipsters are eligible for cash rewards from the Fayetteville/Cumberland County Crime Stoppers Program," Police Sgt. Shawn Strepay said.
Community branding survey
The city of Fayetteville, Cumberland County, and nine partner organizations have banded together to create the Fayetteville Cumberland Collaborative Branding Committee and are distributing a survey to gather residents' input for a community branding project. This research is part of an undertaking to create an updated image of the area's strengths, assets, diversity, vision and potential. Community members are encouraged to take the 15-minute anonymous survey at www.brandingfcnc.com.
The FCCBC commissioned North Star Destination Strategies to help create a new brand. North Star has an extensive background in developing cooperative brands for both governments and organizations, having worked with more than 250 communities in 44 states.
"Understanding the diverse perspectives of our respondents will help North Star bring the real story of this community to the surface," said Will Ketchum, president of North Star.
North Star will use its research to develop a brand that showcases what makes the community unique with the potential to attract new residents, businesses and tourists.
Social Security telephone scam
Fayetteville Police are warning the public about a telephone scam targeting local citizens. Fraud Detectives have received reports that a subject is calling unsuspecting victims claiming they have outstanding warrants for arrest.
The scammer declares he is calling from the Social Security Administration and that the citizen must pay a fine immediately or be subject to arrest. The suspect then requests personal information and payments. Police say the caller may sound professional and courteous while waiting for the recipient to release information. The caller may also suggest that the citizen purchase prepaid credit cards or gift cards.
City police remind residents that legitimate businesses and government agencies do not threaten arrests or make demands for information and money. Authorities say to never provide any information to unsolicited callers.
Local governments honored
The city of Fayetteville, Cumberland County and the City of Fayetteville's Public Works Commission were among 28 North Carolina governments to earn recognition in the 12th annual North Carolina City and County Excellence in Communications Awards. The local organizations won a combined 11 awards, to include recognition for the city and county's collaborative efforts in the Hurricane Florence Joint Information Center and PWC's Carolyn Justice-Hinson winning the Chris Coulson Communicator of the Year Award.
The program was held April 11 at the NC3C's Spring Conference in Durham. "It is my honor to congratulate all the winners of the NC3C Excellence in Communications contest this year, said President Dana Kaminske. "The work that city and county government communicators do is impressive and is worth recognizing."
Photo: Christine Kastner