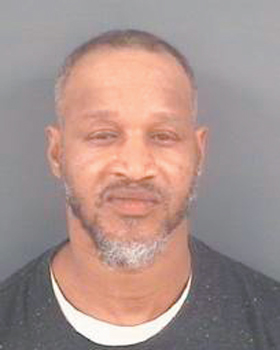 Fayetteville Police special victims' detectives have jailed a Robeson County man they describe as a serial rapist. Johnnie B. Green Jr., 45, of Parkton, faces nearly 50 charges. He is accused of committing a dozen rapes and is being held in the Cumberland County Detention Center under a $13.5 million bond. The rapes — nine in Fayetteville, two in rural Cumberland County and one in Hope Mills — occurred between June 2009 and November 2010.
Investigators dubbed the attacker the do-rag rapist because the victims described their assailant as wearing a scarf on his head. He was in jail for an unrelated case when charged with the crimes. Authorities have filed 14 counts of second-degree rape, 21 counts of second-degree sex offense and multiple charges of kidnapping, first-degree burglary, felony breaking and entering, and common law robbery against Green.
Police spokesman Lt. Gary Womble said the attacks took place throughout the city, from Ireland Drive to Bragg Boulevard, McPherson Church Road to Rosehill Road and from Pamalee Drive to Cliffdale Road.
Womble said Green became a person of interest through a genetic genealogy analysis of his DNA. Genetic genealogy is a relatively new science developed by Parabon NanoLabs of Reston, Virginia. The firm has worked with Fayetteville Police for about two years. When a genetic genealogy search yields useful related matches to an unknown DNA sample, it can narrow a suspect list to a region, a family or even an individual. It is paired with snapshot DNA phenotyping to reduce the list of possible matches further. It is the same service used to identify other suspects in unsolved rape investigations that resulted in arrests in Fayetteville.
New city senior management team member
Fayetteville City Manager Doug Hewett has selected Angel Wright-Lanier as a new assistant manager. She was assistant city manager in Goldsboro, North Carolina, from 2013 to 2015 and deputy town manager in Mooresville, North Carolina, from 2015 to now.
Wright-Lanier succeeds Jay Reinstein, who is retiring after being diagnosed with early onset Alzheimer's disease. "Angel Wright-Lanier has the experience, knowledge and people skills to be the next assistant city manager for Fayetteville," Hewett said. "Her extensive background in managing a large variety of departments and interacting well with the public make her a good fit for the position."
Wright-Lanier earned a Bachelor of Arts from the University of Tennessee at Knoxville, a Master of Public Administration from the University of Tennessee at Chattanooga and a Master of Science in Management Information Systems from Strayer University.
North Carolina transportation leaders meet in Fayetteville
The North Carolina Board of Transportation gathered in Fayetteville last month. The board took its monthly meeting on the road to see firsthand the unique assets and transportation challenges in Highway Division 6, which is headquartered in Fayetteville. Board members designated all 39 miles of the future I-295 as the "Airborne & Special Operations Highway." Fayetteville City Council and Fort Bragg's garrison commander requested the designation.
Board members also named the section of I-295 between I-95 and Ramsey Street after Lyndo Tippett. The Cumberland County Board of Commissioners requested the special designation. Tippett was the state's longest-serving transportation secretary under Gov. James B. Hunt, serving from 2001 until 2009. Tippett had previously served on the board of transportation.
Airborne Hall of Fame Inductees named
The 82nd Airborne Division has announced the inductees for the 2019 All American Hall of Fame Class. The ceremony honoring the inductees will be held at 10 a.m., May 22, at Fort Bragg's Hall of Heroes.
A board of senior leaders selected 15 legendary figures from the Division's 102-year history for enshrinement this year. They were chosen based on their service with the division, their lifelong commitment to the division's values, valorous combat action and contributions to their chosen field.
Inductees include Command Sgt. Maj. Joseph R. Allen, Gen. Lloyd J. Austin, Maj. T. Moffatt Burris, Lt. Col. Robert E. Chisolm, Lt. Gen. George A. Crocker, Lt. Col. Gordon "Duke" Dewey, Pfc. Robert W. Dodson, Command Sgt. Maj. Steven R. England, Capt. Kimberly N. Hampton, Lt. Gen. James H. Johnson Jr., Brig. Gen. Dennis D. Kerr, Gen. Carl W. Stiner, Maj. Gen. Reuben H. Tucker, Lt. Gen. John R. Vines and Chief Warrant Officer 4 Johnathan A. Ward.
Animal control foster program
The Cumberland County Animal Control Shelter is seeking foster families to provide temporary care for animals until they are ready for adoption. There is a great need for kitten fosters currently, said Director Elaine Smith. "Fosters are a huge help in increasing the number of kittens that we can care for at the shelter," she said.
Foster orientation sessions are held the third Saturday of each month at 2 p.m. at the Animal Shelter, 4704 Corporation Dr. The age and condition of the animals determine how long they stay in foster care. Some animals also need special care, such as bottle feeding or medication administration.
The only requirement to foster is that parents be 18 years old, sign liability waivers and attend orientation sessions. All supplies are provided. For more information about fostering, or to sign up for an orientation session, call 910-321-6828 or 910-321-6965.
Photo: Johnnie B. Green Jr.