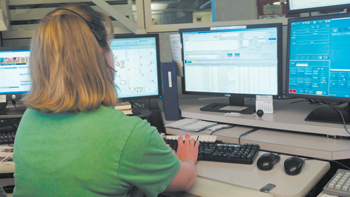 Unknowns are driving local government officials to meet a deadline that could yield a state grant to help fund a joint 911 call center. Subcommittees of the Cumberland County Board of Commissioners and Fayetteville City Council agree that co-locating a new emergency communications center is a good idea. But it's an expensive undertaking that could cost tens of millions of dollars.
County government is the lead agency in the grant acquisition, and Deputy County Manager Tracy Jackson told committee members he can't say how much a grant from the state 911 Board might be. He made clear that initial cost estimates to acquire, renovate and equip the facility for $30 million are obsolete.
Cumberland County Manager Amy Cannon said the county will move forward to develop the call center with or without the city's participation or a grant from Raleigh. The county acquired a building at 500 Executive Place for the communications center for $5 million. City council members Kathy Jensen, Ted Mohn and Larry Wright met with County Commissioners Glenn Adams, Marshall Faircloth and Jimmy Keefe May 6 to hash out details of a proposed interlocal contract to co-locate their separate operations.
"The spirit is to forge an agreement," Faircloth said. Subcommittee members agree that working together would reduce renovation and operation costs for the city and county. They said the hope is to one day consolidate the 911 call centers.
City council and county commissioners need to approve the agreement this month before a grant application is submitted. Council member Kathy Jensen said that dealing with unknowns will be difficult for the other seven members of city council.
It's unclear what chances a grant application to the state would have even if it's agreed to locally. Mayor Pro Tem Mohn suggested operations should move forward without seeking an unknown grant.
The agreement discussed by city and county officials said the two governments would co-locate their 911 operations "with the mutual intent to fully consolidate in the future."
"Even though it's going to be expensive," Faircloth said, "it won't be as expensive as two separate facilities."
The pending agreement does not specify whether the city or county will be responsible for management. It says only that "each party's respective 911 director and employees will be subject to its own personnel policies and procedures."
"Good faith and good will and a fair shake is what we're agreeing to," Councilman Larry Wright said.
County Commissioner Jimmy Keefe noted that a consolidated 911 center has been discussed for 30 years. "We have an opportunity," he said. "This is as close as we've ever come."
Cumberland County's emergency communications center is in cramped quarters in the basement of the law enforcement center on Dick Street. It has been considered obsolete for many years. The city of Fayetteville's 911 center is on the second floor of City Hall. Since the terror attacks of 2001, new emergency communications facilities are expected to be secure facilities away from downtown centers of government.