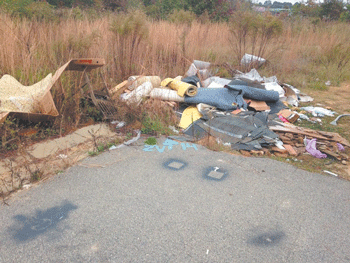 President Donald Trump and his Veterans Affairs secretary are claiming full credit for health care improvements that took place before they were in office. Trump said he passed a private-sector health care program known as Veterans Choice, after failed attempts by past presidents. The Choice program, which allows veterans to see doctors outside the government-run VA system was passed in 2014 under President Barack Obama.
Trump's recently appointed VA secretary, Robert Wilkie of Fayetteville, is also distorting the facts. He suggested it was his efforts that improved waiting times at VA medical centers. The study cited by Wilkie on wait times covers the period from 2014 to 2017 — long before he was appointed VA secretary.
The VA "had suffered from bad leadership," Wilkie said. "I had to make sure that as we approach our veteran population that we make sure that they are at the center, their needs are at the center of what we do ... I think we've had it backwards at VA for many years."
In an interview with Fox News, Wilkie claimed that now "we have same-day mental health service." Same-day mental health service started at the VA before Trump took office. The VA's effort to provide same-day primary and mental health care, when medically necessary, at every VA medical center was publicized in April 2016 during the Obama administration.
Roadside trash isn't getting picked up
"We've got a systemic problem," Fayetteville Mayor Mitch Colvin said, moments after City Council member Bill Crisp complained that areas of Strickland Bridge Road have mattresses and box springs at the curb that haven't been picked up since he complained about it a week earlier.
The remarks came during a May 28 City Council dinner meeting. City Manager Doug Hewett reminded Council that the city can't respond to issues as quickly as he would like.
"There's no money in the budget," Hewett said. "We've got to figure out a way to flex."
Councilmember Kathy Jensen said the public needs to be better educated when it comes to garbage and yard debris pickup in addition to bulky items and tree limbs. Hewett noted that since 2013, residents have not been required to report special needs and so they simply put their junk at the curb.
Deputy fire chief promoted
Fayetteville City Manager Doug Hewett was apparently guided by local history when he named Deputy Fire Chief Mike Hill permanent chief of the Fire/ Emergency Management Department. Fayetteville fire department chief officers have been promoted from within since the agency became a full-time, paid department in 1947.
Hill has served with the fire department for more than 25 years and was appointed acting chief when Ben Major retired earlier this year.
"Michael Hill has the talent, experience and leadership abilities to be Fayetteville's next fire chief," Hewett said.
Hill has managed or been assigned to every division of the department. As chief, Hill will lead a staff of 331 operating out of 15 fire stations in North Carolina's second-largest city geographically. He will manage a $29 million budget for a department that is internationally accredited and has achieved a class one ISO rating. ISO is the Insurance Services Office, whose ratings determine a community's commercial insurance rates. The ratings also position fire departments competitively among themselves. A one rating is the highest to achieve.
Relief from the heat
The Cumberland County Department of Social Services is the latest agency to provide relief for those suffering from the current heat wave. D.S.S. will open an auxiliary lobby to members of the public on days when the heat index reaches 100 F and a heat advisory is issued. The effort provides relief for citizens who have no other way to escape the high summer temperatures.
The DSS building is at 1225 Ramsey St. The lobby areas will be open from 7:30 a.m. to 5 p.m. Temperatures topped 100 F and regula