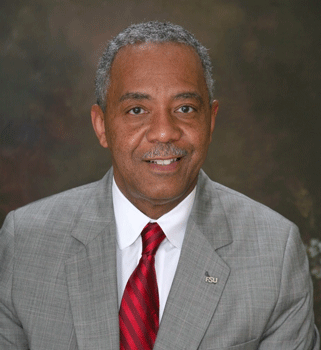 Fayetteville State University Chancellor James Anderson is stepping down but will remain with the university. Anderson has served as chancellor for 11 years.
An FSU news release indicated Anderson is stepping aside for personal reasons. It did not indicate his date of departure. The news release said Anderson will take a yearlong sabbatical, during which time "he will continue to serve the military, the university and city in different roles." Thereafter, he will be eligible to return to a faculty position in the Department of Psychology.
University of North Carolina System Interim President Dr. Bill Roper will name an interim chancellor to lead FSU while a national search is conducted to find a successor. Academic standards, student enrollment and fundraising increased during Anderson's tenure.
Second marine sentenced in Green Beret death
An elite Marine Raider has been sentenced to four years in a military prison after admitting to his role in the strangulation death of a Fort Bragg Green Beret, a fellow special operations troop he described as a friend. Staff Sgt. Kevin Maxwell Jr. pleaded guilty to negligent homicide, burglary, obstruction and other charges in a plea bargain to avoid more serious charges, including murder, in the June 4, 2017, death of Army Staff Sgt. Logan Melgar.
The death occurred in the Malian capital city of Bamako, West Africa, where SEAL Team Six and a unit of Army special operations troops were deployed. Maxwell testified Melgar's killing was the accidental result of a devious hazing plan — which he initially thought was merely a joke — launched over late-night drinks at local bars.
Maxwell told the military judge, Marine Col. Glen Hines, he would never forgive himself for participating in the "ridiculous and harmful, abusive trick" against a buddy. From the witness stand, Maxwell turned to Melgar's widow, Michelle Melgar, in the first row of the courtroom gallery, telling her that her husband was a better man than he.
Maxwell described a tense climate among the military special operators serving in Mali, especially between Navy sailors and soldiers with Fort Bragg's 3rd Special Forces Group. They shared a house in Bamako.
Gun violence awareness
America observed National Gun Violence Awareness Day earlier this month. Across the country, over 900 events took place to raise awareness. Chiefs of police from Raleigh, Durham, Fayetteville and Apex, the Durham county sheriff, three legislators and Moms Demand Action gathered at Durham Police Headquarters to advocate for common-sense gun laws.
"Today, leaders of the Triangle are taking a strong, united stand on this issue," said C.J. Davis, Durham's police chief, "not just today but every day." Davis said her department is using a combination of enforcement activities and community outreach to fight violent crime, which is up 17% this year.
Fayetteville Police Chief Gina Hawkins said her department is involved in a program called EKG, Educating Kids on Guns. Hawkins spoke of the "three elements of policing: suppression, intervention and prevention."
Every day in America, 100 people lose their lives to gun violence, and many more are injured, according to the Centers for Disease Control and Prevention database. There are more than 38,000 deaths from gun violence in the U.S. An estimated 60% of those deaths are from suicides or accidental shootings.
School board member resigns
The Cumberland County Board of Education's newest members has resigned. Peggy Hall cited personal and medical reasons for stepping down. She was elected in November of 2016 to succeed her husband, Macky Hall. He chose not to seek re-election to the seat he held for 24 years.
"I am taking this step solely because of personal and medical issues, which have developed beyond my control in recent weeks and necessitate that my time be prioritized with my family," she wrote in a letter to chairperson Donna Vann.
A vote to replace Hall on the school board is likely to take place in August.
School is out for the summer
Many parents are considering ways to keep their children fed during the summer months because they depend on free and reduced-price meals for their children at school.
Cumberland County Schools' Child Nutrition Services provides free meals to children during the summer. The meals are served Monday through Friday through Aug. 2. There are no income requirements or registration. Anyone age 18 or younger can eat free.
"The Summer Meals Program is an excellent benefit for the children and families in our community," said Beth Maynard, CNS executive director. "The program ensures all children have continued access to nutritious meals."
Meals are available throughout the summer at numerous open sites and at participating local camps, church programs and organizations that are a part of the Summer Meals Program. Each year, the U.S. Department of Agriculture partners with local organizations like the CNS to provide free meals to children when school is out for the summer. Email summermeals@ccs.k12.nc.us for a list of locations, or call 910-678-2502.
Photo: James Anderson