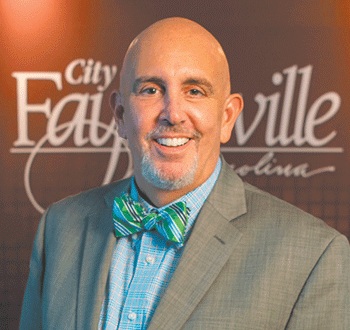 City of Fayetteville staff members who know him say Jay Reinstein is a good guy. Reinstein, 57, spent five years on the job as an assistant city manager. His last day on the payroll was June 30, although he has used family medical leave and sick leave since last October. That's when he was diagnosed with early-onset Alzheimer's disease. Reinstein is not yet eligible for retirement. Disability insurance provides income for someone who can no longer work because of illness or injury. He will receive short-term disability through the state retirement system and a year later will apply for long-term disability until he can officially retire in 2022.
Reinstein was honored by the city on June 24 with a luncheon, reception and a special presentation by City Council. Mayor Mitch Colvin presented him with a key to the city, Fayetteville's highest honor. The presentation at the City Council meeting followed a video tribute prepared by and featuring numerous department heads and others. Reinstein's wife and daughter were on hand for the ceremony.
"The next chapter of my life is to help find a cure for Alzheimer's," Reinstein told the gathered City Hall assembly. He has been named to the board of directors of the National Alzheimer's Association and will attend his first board meeting this month in Chicago, Illinois. He makes a point of often repeating that he doesn't want sympathy. He wants support.
The impact of Reinstein's condition became clear last fall when The Jaywalkers, a team of friends and associates organized to honor him, raised nearly $25,000 for research. Researchers hope that studies on biomarkers will allow experts to diagnose the disease more quickly. Biomarkers are proteins in the body, or other types of markers, that reliably indicate the progress of a disease.
Early-onset Alzheimer's is a rare form of dementia that strikes people younger than 65. Statistically, only about 5% of those who develop Alzheimer's develop symptoms before age 65. Most people with early-onset Alzheimer's develop symptoms of the disease in their 40s and 50s. An accurate diagnosis is crucial, for medical reasons, to rule out other potential issues and get the most appropriate treatment as well as for personal and professional reasons. For one's family, the diagnosis is fundamental in helping members respond with appropriate understanding and compassion.
Early-onset Alzheimer's disease can be a difficult situation to cope with. Reinstein is on record as knowing that it helps to have a positive outlook and to stay active and mentally engaged. It's also important to rely on friends and family as much as possible. When the disease is still in its early stages, it's critical to think about the future, again something Reinstein says he has done. This includes financial planning, clarifying health insurance coverage and getting important documents in order. Doctors also say it is important to have a healthy diet, get regular exercise, cut down on alcohol and use relaxation techniques to reduce stress.
Photo: Jay Reinstein