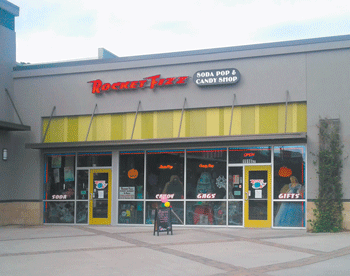 When Gander Outdoors, formerly known locally as Gander Mountain, got in the business of selling recreation vehicles and motorhomes, the company found it needed more space than its parking lot provided. Its location at Marketfair Mall on Skibo Road wasn't designed to display a couple-dozen large recreational vehicles. It also needed room to display additional units that it couldn't park in front of the store. So, Gander Outdoors worked out a lease with WSB Retail Partners of Mt. Pleasant, South Carolina, which provides property management services for Marketfair. Under new owners, the venue has become an upscale retail, dining and theater facility.
Last fall, some of the small-business owners in the courtyard near the AMC Cinema 15 complex became concerned when they discovered RVs were being placed in an overflow parking lot adjacent to the businesses. Ann Sims, co-owner of Rocket Fizz Soda Pop and Candy Shop, said her customers complained that the lot was filling up because the RVs took up so much space. She told Up & Coming Weekly that in February she was rebuffed by Gander management when she inquired. A month or so later, Sims said WSB management got involved, but nothing developed.
By this time, the parking issue had become a cause for Sims. "We work hard to have a successful business," she said. In mid-June, she arrived at work to find that a chain link fence had been erected in the middle of the overflow parking lot. RVs were being parked inside the fence. Marketfair customers had to park in the smaller section, which Sims said was poorly planned and awkward for motorists.
Sims fired off a lengthy email to WSB Managing Partner Dusty Weiderhold. "While we want what is best for our business, we also want to aid our fellow tenants and ensure an environment that helps make the center a better shopping experience for all our customers and prospective tenants, not just Gander Outdoors," she wrote.
Weiderhold conceded things have been happening that he was unaware of, and he shared that with Sims. He told her he was concerned that the fence had been installed in the adjacent parking lot. He declined to comment regarding large unattended parking areas to the rear of the AMC theaters and next to the Rooms to Go furniture store.
"We will try to get together with them," he said of the business owners.
"Rocket Fizz has tried hard to promote Marketfair Mall since we first moved in in 2015, as we have helped promote and organize events such as Christmas Tree Lightings, Easter Egg Hunts and Trunk or Treats and (have) brought a lot of attention from the press to highlight this center," Sims said.
Weiderhold told Sims he hopes to arrange a meeting with Marketfair business owners sometime during the week after the July Fourth holiday. Sims said she was happy to hear what she hopes is Marketfair's genuine interest in solving the parking problem.