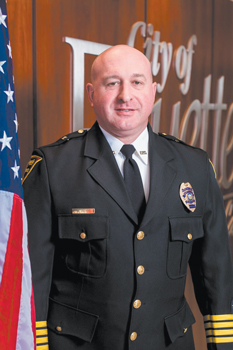 The recent promotion of Fayetteville Police Major James Nolette to assistant chief gave rise to the question, "What happened to Assistant Chief Michael Petti?"
Up & Coming Weekly asked Police Chief Gina Hawkins, who said: "Michael Petti is still with the police department. He is a lieutenant assigned to the Criminal Investigative Division."
City officials, including Mayor Mitch Colvin, Manager Doug Hewett and Attorney Karen MacDonald declined to comment on the change.
Up & Coming Weekly learned Petti recently left the police department but was rehired so he could complete the time required to be eligible for retirement. Former Chief Harold Medlock promoted him.
Two-and-a-half years ago, Petti graduated from the FBI National Academy program in Quantico, Virginia. The FBI said less than one-half of 1% of law enforcement officers are selected to attend this training course. It is internationally known for its academic excellence. The National Academy provides 11 weeks of advanced communication, leadership and fitness training for selected officers having proven records as professionals in their agencies.
Garbage trucks broken down
The city of Fayetteville's Solid Waste Division is still operating with a shortage of garbage trucks. Some city sanitation employees are temporarily off the job.
"Those without available equipment are reassigned, if possible," said City Public Information Specialist Kevin Arata. "If not, they are sent home with the option of using compensatory time if they have it — most do as they have been working a lot of additional hours lately — or vacation time."
Deputy City Manager Kristoff Bauer said 19 of the city's 44 trucks experienced mechanical problems July 18. Many of them are still out of service as of this writing. The breakdowns initially resulted in next-day yard waste pickup not occurring. Bauer said the mechanical problems included broken seals, gaskets and blades.
The city said on its website that "heat has significantly impacted the readiness of our solid waste and yard waste trucks. As a result, we haven't had enough available trucks to maintain solid waste and yard waste pickup schedules. 60% of the fleet is down."
Other communities have not reported similar problems, nor has Waste Management, which is contracted by the city to provide recycling and apartment complex solid waste pickup. Residents were encouraged to leave their roll-out carts at the curb until they are emptied.
History comes alive at the Museum of the Cape Fear
The Museum of the Cape Fear Historical Complex Foundation announces its annual fall/winter program series, "History LIVE!" The local museum was awarded a project support grant for $9,000 from the Arts Council of Fayetteville/Cumberland County. The "History LIVE!" series offers a live look at the past through historical re-enactments, artist demonstrations, musical performances and live-action theater with four special events.
The Museum Foundation will match the grant. "Grant funds and other donations allow us to offer this programming for free or at minimal cost to the public," said Megan Maxwell, the "History LIVE!" program series coordinator.
Colonial life in North Carolina takes center stage at the Festival of Yesteryear: A Celebration of Early America on Sept. 7.
Hallowe'en Revels Night Tours of the 1897 Poe House spotlights live theater with a historical Halloween twist Oct. 23-25.
Celebrate an old-fashioned Halloween with a free kids concert and costume contest at the Poe House Trick or Treat Oct. 26.
Christmas traditions are highlighted Dec. 8 with the Holiday Jubilee, featuring carolers, historic décor and Santa.
Rare brain disease claims a life in Cumberland County
A Greensboro area individual has died as the result of contracting a rare disease in Cumberland County July 12. The state Department of Health and Human Services notified the local health department of the death, saying that an individual from Guilford County died after developing primary amebic meningoencephalitis. It is an illness caused by an ameba that is naturally present in warm freshwater during the summer. The individual became ill after swimming in Fantasy Lake Water Park near Hope Mills.
The National Centers for Disease Control and Prevention confirmed the individual's illness was caused by an amoeba, which apparently was forced up the swimmer's nose. That is the only known cause of the infection. This amoeba is mostly likely to be present when it is hot for prolonged periods of time, resulting in higher water temperatures and lower water levels.
County Interim Health Director Duane Holder expressed condolences to the family of the victim, noting that the case was one of only five known instances in North Carolina between 1962 and 2018.
"We encourage everyone to use precaution when swimming, diving or water-skiing in warm freshwater lakes," he said. Holder suggested limiting the amount of water going up the nose by holding the nose or using nose clips when swimming in warm freshwater lakes. For more information about primary amebic meningoencephalitis, visit www.cdc.gov/parasites/naegleria/.
If you have questions or concerns, contact the Cumberland County Department of Public Health at 910-433-3645 or 910-433-3655.
FAST survey underway
The Fayetteville Area System of Transit is conducting a customer feedback survey that allows residents to offer input on service improvements and potential new service areas. Bus riders and nonriders can take the survey. FAST staff and interns are surveying passengers and others at various locations around Fayetteville as well as onboard buses.
The FAST survey can be found at ridefast.net or facebook.com/ComeRidewithFAST.
Economic development group gains new executive
The Fayetteville Cumberland County Economic Development Corporation announces Jessica Aspiras as its new vice president of marketing and business development. "Together with our public and private partners, FCEDC continues working to promote the Fayetteville and Cumberland County community as a top business destination," said Robert Van Geons, president and CEO of FCEDC. "We're happy to have Jessica on the team and look forward to the tangible results she will help us achieve."
Aspiras holds a master's degree in broadcast journalism from Syracuse University and a bachelor's degree in mass media studies from Florida State University. "I am eager to help continue our community's growth and momentum through strategic marketing and communications initiatives," she said.
Van Geons said Aspiras specializes in strategic planning, integrated tactics, servant leadership, collaborative direction, team building, focused execution and business agility.
Pictured: Michael Petti