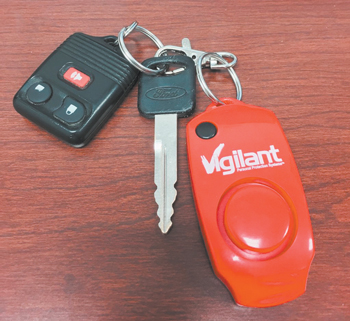 The desire to protect our lives and the lives of people we love is a basic instinct. But how can regular people with no self-defense training or experience in martial arts stand up for themselves in a moment of danger? Personal security alarms are quite a novelty when it comes to self-defense. Everybody knows about pepper spray, and many women carry it. But there is a much more convenient and effective method of self-protection. The question is, how does one choose the best personal alarm? What can protect against an attack?
Fayetteville police are urging older residents to carry a tiny new personal safety device that can protect them against attackers. Ruth Miller, a 63-year-old Fayetteville woman had just left the store with her bags of groceries when she was put upon by a mugger while walking to her car. As she was unlocking her car, a man approached from the rear and tried to grab her, police said. "He told me 'don't fight," said Miller, as he tried to snatch her purse. Luckily, she told officers, she remembered that she had a personal alarm button attached to her purse.

She reached for the alarm button and pulled the pin. "Immediately the alarm started screaming," she said.


He didn't know what to do, froze for a second and then ran away. Others heard the alarm and started yelling and running over to help. A personal alarm is a small electronic device that can emit a loud, alarming sound. The loud sound it produces has a distracting and disorientating effect, which allows a person to escape a surprised assailant.


Studies have shown that women and children have the greatest risk of being attacked. Police say it's a good idea for seniors carry alarm devices just as they do their keys. No special skills or training are necessary. Additionally, they can provide children with an effective tool to protect themselves against possible kidnappings. The device is proven to be more practical than pepper spray. Some of these gadgets come equipped with safety pins that can be pulled with ease. Others have push buttons.
Once armed, they emit a continuous, loud piercing sound that lasts about half an hour. Companies that produce these personal alarm systems suggest the safest way to use one is to remove the safety pin or press the button, drop it on the ground and immediately run away. The device will provide enough distraction to give you a chance to find help while the attacker is also running away. Retail prices vary from $10 at big box stores up to $80 online. The compact design makes them easily attachable to key rings or pocketbook or backpack straps.
Personal alarms contain the latest state-of-the-art features. Personal alarms come in a variety of types, so there is something to suit all preferences. For example, wrist emergency alarms are easy to use and are worn on the wrist so they can be instantly activated easily by the wearers if they are attacked or have fallen. Panic alarms can be worn as pendants around the neck.
Police say it's a good idea for seniors to carry alarm devices just as they do their keys. No special skills or training are necessary.