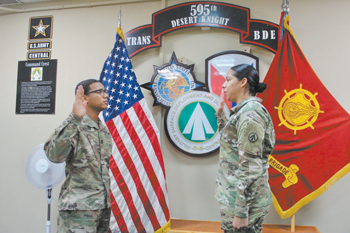 The Army is offering larger bonuses to soldiers who reenlist under its selective retention bonus program to fill critical career fields. This most recent military personnel message is significant in that it raises the maximum bonus from $72,000 to roughly $81,000. "If a soldier wants to reenlist for only three years, they're actually going to get less money" than before, said Sgt. Maj. Mark Thompson, the senior Army career counselor. "We're still giving them an incentive, but they'll get more if they give more."
The Army is offering the maximum reenlistment bonus to qualified soldiers in Special Forces, cyber operations, intelligence and explosive ordnance disposal. "A good example is a tier-three 11B Infantryman," said Lt. Col. Junel Jeffrey, a spokeswoman for the Army's assistant secretary of manpower.
According to a service release, a cavalry scout sergeant used to get $7,800 for a six-year reenlistment. The new bonus is $9,900. A soldier in the 18X Special Forces series of career fields with 6-12 years on active duty with the rank of staff sergeant or sergeant first class who reenlists for 60 months or more, could receive the $81,000 lump-sum bonus. Although retention is at a historic high — with 82% of eligible soldiers having already reenlisted this fiscal year — the Army still needs to fill certain fields, the service said in a news release.
Fort Bragg combat victims honored for their bravery
The Silver Star medal was presented last month to the parents of Green Beret Staff Sgt. Dustin Wright, who gave his life to protect his comrades while outgunned and under fire during an Oct. 2017 ambush in Niger. Showing disregard for his personal safety, the 29-year-old crossed open terrain under intense enemy fire to protect and recover two fallen comrades. "His courage and dedication to his team were unmatched," said Capt. Rick Dickson, a spokesman for 3rd Special Forces Group, reading the citation in a public ceremony at Wright's hometown about 80 miles west of Savannah's Hunter Army Airfield.
The head of 1st Special Forces Command (Airborne) Maj. Gen. John Deedrick presented the medal. Wright, along with Staff Sgt. Bryan C. Black, 35, Staff Sgt. Jeremiah W. Johnson, 39, and Sgt. La David Johnson, 25, all with 3rd Special Forces Group, were killed outside a rural West African village near Niger's border with Mali. "He was the epitome of a Green Beret," Deedrick said of Wright. "He gave his life protecting his teammates."
More than 100 fighters ambushed the team of some 40 Green Berets, support soldiers and Nigerien troops. The Pentagon announced it would award nine valor medals for heroic actions undertaken during the six-hour firefight, in which two other U.S. soldiers were wounded and four Nigeriens killed.
FTCC provides business start-up courses
A veteran-to-CEO course, which began Sept. 3 at Fayetteville Technical Community College, covers key steps for business startup and highlights specially funded franchise opportunities available exclusively to veterans through the Veteran's Entrepreneurship Loan Program. Participants who complete the program will have an opportunity to pitch their business ideas during competition planned for Nov. 1 and 2. Also, the FTCC Small Business Center has joined with the Brian Hamilton Foundation and the Greater Fayetteville Chamber to provide MilSpouse Starter U, free online training for military spouses interested in starting a business. "We are excited about the opportunity to be involved in presenting these classes at no cost to our veterans and military spouses who pursue entrepreneurship," said FTCC President Dr. Larry Keen.
"By building a business that can move with them, military spouses minimize the disruption of important financial contributions to the family," said Kent Hill, Director of the Center for Small Business at FTCC.
A prime catering service has evolved into Fayetteville's newest venue: The Vine
Brad McLawhorn and Kelley McLawhorn are brothers. They love to cook. A few years ago, they went into business together and formed Two Bothers Catering. The McLawhorns cater everything from country breakfasts to hand-cut prime rib. Sept. 11 was the grand opening date of The Vine, the newest wedding and banquet facility to open in Fayetteville at 806 Katie St., which is off Owen Drive just beyond Cumberland Road. Its service area also includes Pinehurst, Raeford and Hope Mills. The Vine, along with Two Brothers Catering, is a premier full-service provider. The Vine specializes in weddings, social events, parties, school and company events. The venue provided a free lunch buffet for first responders plus active duty and retired members of the armed forces on Sept. 11.
Rural fire department building new firehouse
Gray's Creek Volunteer Fire Department, Cumberland County Station 18, has begun construction of a fire station to replace its 47-year-old building. There was a ribbon-cutting ceremony Sept. 5 to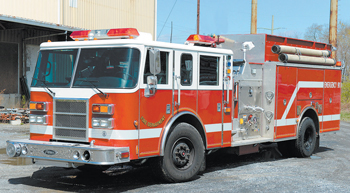 commemorate construction of the new station across from the current facility at 7010 Fire Department Rd., off NC-87 southeast of Fayetteville. The new 16,000-square-foot building will sit on seven acres of land. It will be three times the size of the existing firehouse. The fire department received a $2 million, 40-year loan from the U.S. Department of Agriculture Rural Development fund to finance the building, which is expected to be complete by March 2020.