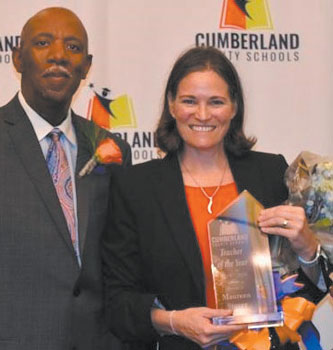 "Early in my teaching career, one of my coworkers told me that my kids would never care to learn until they learned how much I care," Cumberland County Schools' 2020 Teacher of the Year Maureen Stover wrote in her nomination portfolio. "In my 10 years in education, I have found that one of the most important parts of being a teacher is the relationships I form with my students." The teacher of the year presentation took place at the Embassy Suites' Richard M. Wiggins Conference Center.

Stover is a science teacher at the Cumberland International Early College High School. She expressed special thanks for her nomination to her principal, Maria Pierce-Ford, her colleagues and her students. The school is located at 1200 Murchison Rd. Total enrollment is 261. Eighty-one percent of the students are minorities. Stover is one of 13 full-time teachers. She received her bachelor's degree from the U.S. Air Force Academy and went on to serve as an Air Force intelligence officer. She later became a science educator through the Troops to Teachers Program.
Stover will receive her Master of Arts degree in secondary science education from Western Governors University in December. She wrote that as a high school student, she had two extraordinary teachers who inspired her to enter the teaching profession. "Mr. Carpenter and Mr. Mueller ... demonstrated that their students were the center of their classrooms and their No. 1 priority."
Within her first few weeks of teaching, Stover realized that each of her students had the potential to be successful in her class if she could find a unique way to help them learn. "I found ways to make science. I also went to my students' games, concerts, competitions, and activities outside of our classroom."
Her students responded by looking forward to her lessons each day. "I know my students beyond my classroom, and this helps me develop strategies that help my students learn based on their personal strengths," she said.
Stover received an award and flowers from the Cumberland County Schools, $300 from the Cumberland County Board of Education, $300 from the Communities In Schools of Cumberland County, $3,000 from Lafayette Ford Lincoln — $2,000 of which is for use at her school and $1,000 for her personal use — a commemorative custom-designed CCS' Teacher of the Year ring from Jostens, an engraved clock from Herff Jones, season tickets to Fayetteville Marksmen hockey and a free weekend stay at Embassy Suites.


Other winners were first runner-up Katelyn Lovette from Gallberry Farm Elementary School, who received an award and flowers from the CCS, $100 from CISCC, and $200 from the CCBOE and second runner-up Tracy Hill from Douglas Byrd High School, who received an award and flowers from the CCS, $100 from CISCC, and $100 from the CCBOE. As Cumberland County's teacher of the year, Stover advances to compete for the regional title.
Cumberland County Schools Superintendent Marvin Connelly Jr. and Cumberland County Schools' 2020 Teacher of the Year Maureen Stover.