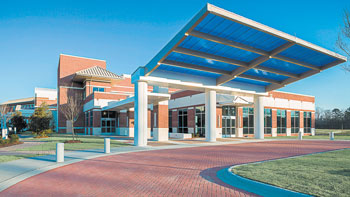 Every year, more than half a million people in the United States undergo joint replacement surgery because of painful arthritis that has greatly limited their activity. With the enhanced technology and surgical techniques available today, joint replacement surgery has become a routine procedure for orthopedic surgeons. There are two hospitals in the area that provide full service orthopedic surgical care: Cape Fear Valley Medical Center in Fayetteville and Hoke Hospital near Raeford. They represent Cape Fear Valley Health System's ongoing commitment to bring comprehensive health care to all residents of southeastern North Carolina.

To help patients achieve success, Cape Fear Valley Medical Center and Hoke Hospital have developed the Joint Replacement Club. Prospective patients enroll in this club even before they have surgery. It starts with a special three-hour class taught by a physical therapist. About 90-95% of patients experience a good to excellent result with relief of most, if not all, of their pain. However, rehabilitation after surgery is the key to a better life. This means patients must be prepared to put a lot of effort into their rehab, especially in the first few weeks after surgery.
Most hospitals that routinely perform joint replacement surgery offer some type of program that includes preoperative education and standardized protocols to ensure that patients receive the right care at the right time during and after their hospitalization. At Hoke Hospital, the Joint Replacement Club is in a separate wing on the second floor. This keeps other hospitalized patients with serious illnesses separated from the orthopedic wing to reduce the risk of infection. Hoke Hospital rehab methods are patterned after established protocols at the parent medical facility in Fayetteville.
The Joint Replacement Club has adopted a horse racing theme, called the Race 2 Recovery. Following surgery, patients sit up in recliners for breakfast and then attend group physical therapy for an hour in the morning and again in the afternoon. Participants are also encouraged to walk when they are not in therapy. In the hallway, distances are mapped in feet, and participants track how far they walk each day. The Joint Replacement Club has been shown to improve outcomes, increase patient satisfaction and reduce length of stay. Patients find the experience is just more enjoyable.
Race 2 Recovery prepares patients for their release from the hospital. Joint replacement surgery complications can arise if plans are not in order before leaving the hospital. To be discharged, a patient must be able to enter and exit a bed and a chair without too much assistance. He or she must be able to go to and from the bedroom, kitchen and bathroom as well as be able to walk with the aid of crutches or a walker. A hip replacement surgery risk or a knee replacement can both be devastating without the proper subsequent care. That is why physical therapy is imperative to heal completely. A good home care agency can help meet these needs.
To help patients achieve success, Cape Fear Valley Medical Center and Hoke Hospital have developed the Joint Replacement Club