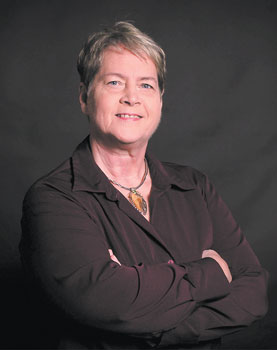 More than 40 years ago, Miki Phillips' doctor told Miki she had just five years to live. She was 23 at the time and in her senior year at Duke University when the diagnosis of systemic lupus was doled out to her. "I was scared," Phillips said. "I was put on steroids that utterly destroyed my health."
She didn't let that stop her though. Phillips has Bachelor of Arts degrees in both Chemistry and Biology from the University of North Carolina at Wilmington and a Bachelor of Health Sciences degree in Medical Technology from Duke University Medical Center. Today, the mom of two and grandmother of four has had her share of adventures and career successes and conquered enough challenges to last several lifetimes, including six pulmonary emboli, diabetes, fibromyalgia and liver, kidney and stage-four thyroid cancer.
When it came to her health, Phillips played by the rules and followed her doctors' orders — for 20 years. She worked at the VA and later ran clinical drug studies for 25 years. "I loved what I did, but six pulmonary emboli grounded me from flying, and traveled a lot for work," she said. "After 20 years of steroids, my doctors told me, 'we can't do anything else to help you.'"
With no other options, "I took matters into my own hands," Phillips said, "I stepped up and took responsibility for my health."
That meant being open to a more holistic approach and alternative therapies. During her research, Phillips found the quantum biofeedback machine. After more research, she bought one. "In 10 months, I went from sleeping 14 hours a day and working one job to working two jobs and playing tennis five days a week," she said. "My doctor has been blown away."
She knew she had to share what she'd discovered. Today, Phillips owns Mind Body Seimei and works as a natural health coach, working in conjunction with her patients and their doctors to bring balance to lives and bodies. "Traditional medicine is great, especially for diagnosis and trauma," said Phillips. "Definitely listen to your doctor. But there is more information and there are other treatments out there for many of the conditions people suffer from."
Mind, Body, Seimei offers biofeedback treatments. A frequency-based modality, biofeedback includes a three-minute scan measuring how patient's body responds to 10,000 frequencies. "It's not diagnostic," said Phillips. "It identifies what is out of balance. Then I can help you start addressing them."
Seimei is another component of Phillips' work. Seimei is a Japanese, hands-free pain relief technique that can change/resolve the expression of a person's pain, for example, sharp, shooting, burning, tightness, as well as the intensity of their pain.
She also offers customized Healthy living programs and sells Nature's Sunshine Products health supplements as well as embracing the benefits CBD oils and other natural products.
Find out more at http://www.mindbodyseimei.com/.