The Cumberland County Board of Health has adopted suggested amendments to the local smoke-free ordinance to include e-cigarettes and vaping products, which are suspected links to recent nationwide deaths from severe lung disease. As of Oct. 17, there were 54 cases of suspected vaping and e-cigarette related lung disease reported in North Carolina in individuals ranging in age from 13 to 72. No deaths related to vaping have been recorded in Cumberland County. The Board of Health has prepared draft language to be included in the proposed ordinance amendment, which will be submitted to the Board of County Commissioners for adoption.

In related news, the health department is offering flu vaccinations to children and adults at its Immunizations Clinic on Ramsey Street. Uninsured children 6 months to 18-years-old may receive the vaccination free. For other patients, the cost depends on the type of flu vaccine received. The immunizations clinic is open Monday through Thursday from 8 a.m. to 5 p.m., every second and fourth Tuesday evening until 7 p.m. and Fridays from 8 a.m. to noon. For more information, phone 910-433-3633 or 910-433-3657.


Child Safety teamwork

Most adults, particularly parents, can't fathom the idea of neglecting a child. Sadly, though, thousands of cases of child neglect exist in the United States. During 2015, the U.S. Department of Health
and Human Services estimated that 683,000 children in the country were victims of abuse or neglect. Even worse, the agency estimated that 1,670 children died in 2015 from abuse or neglect. Locally, the Cumberland County Department of Social Services has been awarded a best practice award in recognition of a program that forged relationships between community partners. DSS received the award for its multi-team approach in assisting a large group of children after an investigation uncovered unsafe living conditions. The outcome of the investigation was the successful removal of 16 children. DSS joined with law enforcement to remove the children without incident or additional trauma. Other community partners included medical providers, schools, nonprofit organizations, county, state and federal governing bodies. The collaboration saw to it that the children were immediately provided foster homes, medical attention, clothing, hygiene supplies and food.


PWC Community Solar Farm

Fayetteville's Public Works Commission has built North Carolina's first municipal community solar farm, and it's a big one. It's a large-scale, ground-mounted solar array of 3,384 solar panels offering electricity customers a shared renewable energy option and an alternate to rooftop solar. The solar farm is adjacent to PWC's Butler-Warner Generation Plant in Eastover. All PWC utility customers — whether they own or rent their homes — can participate as subscribers in this program. Customers can enroll in the program beginning Nov. 1, pay a monthly subscription fee and in exchange receive bill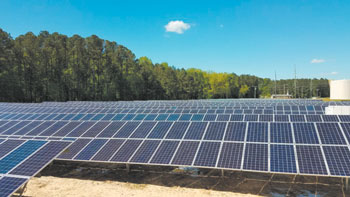 credits for the value of the solar less the cost to operate it. The solar farm will help provide cleaner, greener power for the community. And, according to officials, it will reduce the amount of electricity PWC purchases from Duke Energy.


Outer Loop section to open

In anticipation of opening the next segment of the Fayetteville Outer Loop, the future Interstate-295, a N.C. Department of Transportation contractor last week replaced overhead signs and restriped the pavement of the new segment of the thruway. Previous signs directed all I-295 southbound traffic to exit at the All American Freeway beyond which construction continued. Next month DOT will open the six-mile section of the highway from the All American Freeway to Cliffdale Road in west Fayetteville. The 39-mile outer loop will bring unprecedented interstate connectivity for the region and provide Fort Bragg direct connections to I-95. The Fayetteville Outer Loop will help support the military, promote continued economic growth and strengthen North Carolina's ability to attract and retain business and
industry, DOT said in a news release. Other benefits include a reduction in the volume of traffic on the local network of city streets and connect major routes in the south, west and north portions of Fayetteville.


Deer Season Safety

As daylight hours get shorter and deer become more active, the North Carolina Department of Transportation is reminding drivers to be alert at roadway deer crossings. Last year, there were nearly 19,000 animal related crashes across the state. Over the past three years, these collisions have resulted in nine deaths and injuries to 3,000. DOT urges motorists to slow down in posted deer crossings and heavily wooded areas, especially during the late afternoon or early evening. Deer often travel in groups so assume that if one crosses the road in front of you there may be others following.


Cumberland County Schools Study

Cumberland County Schools are charting a course to reduce out-of-school student suspensions. The school system and the Cumberland County Chapter of the NAACP recently held a forum to review strategies and develop new approaches to embrace restorative justice practices and reduce suspensions. Restorative justice is an approach in which the response to an incident is a meeting between the victim and the offender, the goal being to share their experience of what happened and create a consensus for what the offender can do to repair the harm from the offense.

The forum aimed to stop the school-to-prison pipeline and how the community can work together to improve academic and life outcomes for students.

Associate Superintendent Lindsay Whitley said the most up-to-date information that has been certified and can be released is from the 2017-2018 school year: "Out-of-school suspensions by ethnicity," involved 6,526 African-American pupils compared to 1,175 whites. Lindsay said 29.07% of the student body was African American.