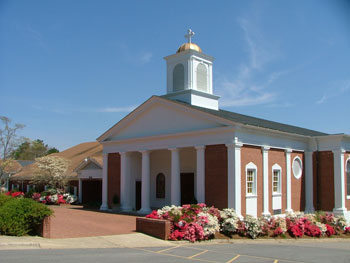 Every year, Saints Constantine and Helen Greek Orthodox Church of Fayetteville hosts a spaghetti dinner fundraiser — but not just any spaghetti dinner fundraiser. The biggest one in the world. The fundraiser is back again for its 61st year on Wednesday, Nov. 20.

If there is any doubt about how popular the tradition is in the community, the Church uses a whopping 4,000 pounds of dry spaghetti and 900 gallons of tomato sauce for the affair. With such a large quanity of pasta being made for the event, the dinner would not be possible without the help of a plethora of volunteers. Last year, the dinner required over 100 volunteers.

Each plate comes with a roll and parmesan cheese. The affordable and delicious meal makes for a convenient lunch or dinner. For attendees who pick up plates for a family or treat their coworkers, the spaghetti dinner fundraiser is a delicious crowd-pleaser.

If you have a sweet tooth, you can find a Grecian dessert that will tickle your tastebuds at the sale. The church also sells delectable pastries every year.

For Kathy Jensen, who grew up in Fayetteville and attends the church, the spaghetti dinner carries a special meaning because it is where her parents, John Keefe and Sophia Makris, met.

"My mother came over from Greece when she was 12, and my aunt worked at Ft. Bragg, and she brought my dad and his friend to meet my mother at the spaghetti dinner," Jensen explained. At that time, people would eat their spaghetti dinners at the church, and Keefe dressed to impress.

"My mother was Greek and my dad was American, so that was a no-no, but they were engaged 4 months later and married within 6 months of meeting," said Jensen. Sophia and John stayed married until his death.

For the Fayetteville/Fort Bragg crowd, the Greek Orthodox Church has become known for hosting events that have become a part of the local culture. In September each year, the Church hosts the annual Greek Festival, where people can tour the church, learn traditional Greek dances, shop from local vendors and get an authentic Mediterrean meal.

But perhaps the sweetest part of the fundraiser is that it benefits nonprofits in the area. While the recipients of the proceeds change, the church uses the massive event to benefit worthy causes.

Plates cost $7 each. Cash and card are both accepted. The event will be held at the Hellenic Center on 614 Oakridge Ave. Tickets can be purchased at the door and the event is carry-out only. Visit http://stsch.nc.goarch.org/spaghetti-dinner or call the church at 910-484-8925 for information.