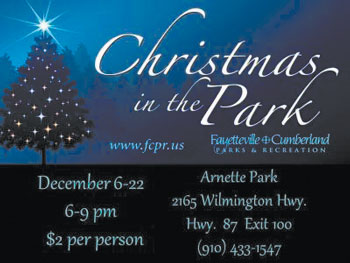 Holiday family fun


Christmas in the Park is a popular annual holiday celebration in Fayetteville. It is staged at Arnette Park through Dec. 22 from 6 to 9 p.m. daily. Fayetteville-Cumberland Parks & Recreation invites the public to take a stroll along a half-mile walking trail to enjoy the sights and sounds of the holiday season. Local artists provide entertainment. The public can relax and watch holiday movies on the outdoor movie screen. Families will enjoy the Christmas Express train through the grounds, and children can visit with Santa. A fire pit provides marshmallow roasting and an arts and crafts station is available — with $1 fees. No pets, please, other than service animals. Arnette Park is located at 2165 Wilmington Hwy. off NC 87 east via exit 100. Admission is $10 per family vehicle, $30 per commercial vehicle and $75 per motorcoach.


Cumberland County teacher of the year wins regional honor

Maureen Stover was surprised the other day as she arrived at the Knuckles Building on the campus of Fayetteville State University. She heard cheers from the faculty, staff and student body at
Cumberland International Early College High School, where she is a science teacher. Stover is also this school year's teacher of the year. It had just been announced that she was selected as the winner of the 2020 Sandhills Regional Teacher of the Year.
"I get to be a phenomenal teacher because I have phenomenal kids," said Stover. "So, I thank you all so much for coming to school every day and being excited about learning."
Stover will compete against eight other regional winners from across North Carolina for the state title. Interviews are scheduled for Jan. 31. The state's teacher of the year winner will be announced in April.


Fayetteville Tech educator honored

Kent Hill, director of the Small Business Center at Fayetteville Technical Community College, was recently presented with the North Carolina Small Business Administration's Collaboration and Partnership Award. The award recognizes Hill's outstanding support of SBA outreach programs. Hill partnered with the SBA on eight workshops this year and has been a key member of the Boots to Business team at Fort Bragg. He also included the SBA in the FTCC Wells Fargo Small Business Summit in May to present the North Carolina SBA Small Businessperson of the Year Award.

"Kent is a credit to your college and is a committed, reliable and trusted resource partner," said Don Spry, senior area manager with the SBA.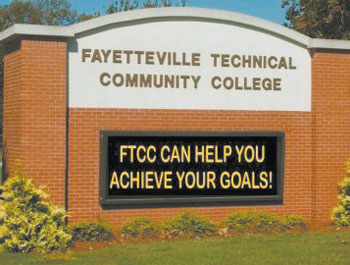 Last year, under Hill's leadership, the FTCC Small Business Center provided more than 140 free seminars, workshops and webinars — all led by subject matter experts — to more than 2,500 small-business owners and entrepreneurs in the area.


FTCC allied health education expands

Fayetteville Technical Community College's Surgical First Assistant program has received initial accreditation from the Commission on Accreditation of Allied Health Education Programs. The program is the first in North Carolina to be accredited and the 11th in the nation. Surgical assistants work under the supervision of surgeons during medical operations. They also perform patient preoperative and postoperative duties. FTCC began the three-semester program in 2018 to provide training for surgical technologists and other professionals. Academic instruction is offered online while clinical experience is gained through work-based learning.

"I saw the value of the surgical assistant because many operations are not done today with two surgeons present the way it used to be," said Terry Herring, chairman of surgical services at FTCC.
According to the U.S. Bureau of Labor Statistics, surgical assistants are expected to have excellent job opportunities, with a job growth rate of 15% between 2014 and 2024.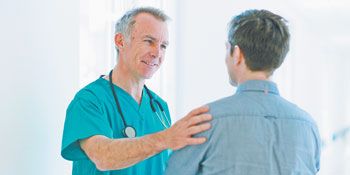 2019 Farm City Week honorees

The late Emmett Wayne Beard Sr. was inducted into the Cumberland County Agricultural Hall of Fame during this year's Farm City Week program staged by the Cumberland County Cooperative Extension Service and the Kiwanis Club of Fayetteville. Beard died in 2017 at the age of 70. The event also recognized Adam Horne as the 2019 Cumberland County Outstanding Young Farmer of the Year. An official portrait of Beard was unveiled and will hang on the wall with past inductees in the I.B. Julian Auditorium of the Cooperative Extension office at the Charlie Rose Agri-Expo Center on E. Mountain Drive. Wayne Beard was a farmer, teacher and civic leader. He served on the Cumberland County Civic Center Commission, as an officer of the Cumberland County Livestock Association and on the Cumberland County Farm Advisory Board.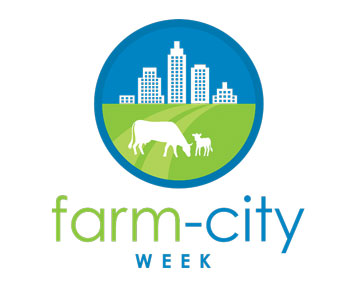 "Mr. Beard will be remembered for his dedication to his faith, his family and his farm," said Cumberland County Cooperative Extension Director Lisa Childers.

Adam Horne continues his family's farming tradition. He is growing crops on land once farmed by his grandfather, Worth Collier and his great-grandfather, Harvey Hubbard. Horne is a lieutenant with the Fayetteville Fire Department. He is the son of Johnny and Ann Horne. Horne and his wife Felisha Cashwell Horne have three children.