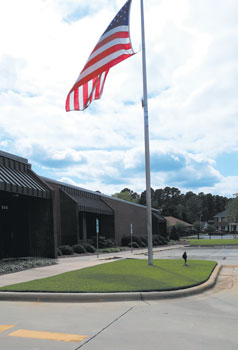 Cumberland County has officially accepted a $2,251,387 grant from the North Carolina 911 Board to the county's new 911 call center, which will be part of the future emergency services building at 500 Executive Pl. The money will help fund renovation, hardware, equipment and associated technology costs for the call center. Cumberland County Emergency Services applied for the grant earlier this year. The current 911 call center has been housed in the Law Enforcement Center on Dick Street since 1974, when the LEC was built. Since that time, Cumberland County's population has grown by approximately 95,000 people, and the volume of emergency calls has increased. In addition to the 911 call center, the building will house the county's Emergency Services Department, Fire Marshal's office, Emergency Management and the Emergency Operations Center. The county purchased the Executive Place building in November 2018 for $5.1 million, hoping the city of Fayetteville would want to share the building and the purchase. The city chose not to get involved. Assistant County Manager Tracey Jackson has estimated the total cost of purchasing, renovating and occupying the building will exceed $30 million.


Szoka named jobs champion

The North Carolina Chamber has named Rep. John Szoka, R-Cumberland, a 2019 Jobs Champion in its annual "How They Voted" report, which details lawmakers' voting records on key bills identified as critical to preserving a positive climate for job creation in North Carolina. Szoka was recognized for voting with the Chamber's jobs agenda at least 80% of the time.


"Job creation and economic development has been, and continues to be, my primary focus in the legislature," Szoka said.

"The 2019 legislative session saw a number of successes for North Carolina's job creators and communities," said Ray Starling, general counsel at the NC Chamber. "We appreciate that Rep. Szoka stood up for the ideas that will fuel our state's competitive business climate and grow our world-class workforce."

The NC Chamber considers itself the state's driving force for business and exists to shape statewide public policy. For more information, visit ncchamber.com.


Cumberland County Sobriety Treatment Court

The Cumberland County Sobriety Treatment Court held a holiday safety event in early December to help raise awareness of the dangers of drinking alcohol and driving. Cumberland County ranks in the top five of North Carolina's 100 counties in alcohol-related incidents and fatalities. Since 2013, an average of 300 people died annually in nationwide auto accidents involving drunken driving during the week between Christmas and New Year's Eve.


"The holidays are an important time to celebrate with family and friends and we also want it to be a safe time," Gov. Roy Cooper said in a statement.

The Sobriety Treatment Court is funded by the Governor's Highway Safety Council and provides a treatment system for high-risk DWI offenders who demonstrate destructive behaviors coupled with alcohol abuse. The specialty court in Cumberland County was established in 2010. Since its inception, 35 clients have completed the court. There are currently 108 defendants enrolled.


Help with heating bills

The Cumberland County Department of Social Services is accepting applications for the North Carolina Low Income Energy Assistance Program. Applications are taken at the Department of Social Services, 1225 Ramsey St., from 7:30 a.m. to 5 p.m., Monday through Friday. During December, only households with a person aged 60 and older or disabled persons receiving services through the Division of Aging and Adult Services were eligible for LIEAP. Other households may apply from Jan. 2 through March 31, or until funds are exhausted. Households with Native Americans age 18 or
older must apply through the Lumbee Tribe at www.lumbeetribe.com. The federally funded energy assistance program provides a one-time payment directly to the utility company to help eligible households pay their heating bills during cold-weather months. Household income must not exceed 130 % of the poverty level. All households must apply for LIEAP; there are no automatic approvals.


School bus tracking

The Cumberland County Board of Education has approved a contract renewal with Synovia GPS Transportation that will allow real-time tracking of the district's 492 yellow school buses and 62 activity buses. Cumberland County Schools will have access to the "Here Comes the Bus" mobile app. The solution will allow the district to track school buses and deliver real-time email and push notification alerts to ensure families arrive at the school bus stop on time.

"This tool will provide another way for our school system to communicate with parents and help keep our students safe," said Dianne Grumelot, the Executive Director of Transportation. "Here Comes the Bus" will be piloted at a few schools in the spring of 2020 and implemented at all schools by the 2020-2021 school year.