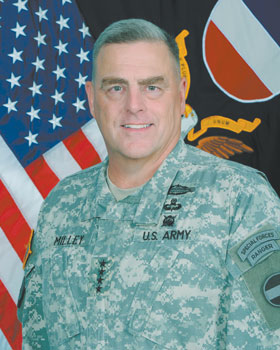 Under pressure from lawmakers, America's top military officer declined to defend President Donald Trump's decision to grant clemency to three service members last month but said he does not believe the moves will disrupt good order in the ranks. "I think the Uniform Code of Military Justice and the means by which we maintain good order and discipline are a critical element in order to maintain some level of humanity in combat zones," said Joint Chiefs Chairman Gen. Mark Milley during an appearance before the House Armed Services Committee.

The comments came following questioning from Rep. Seth Moulton, D-Mass., a Marine Corps veteran, who said he heard from current service members who were dismayed by the moves. The separate cases have all drawn attacks from Trump's critics and praise from his supporters. The decisions were reportedly made over the objections of senior military officials who warned that forgiving war crimes could undermine the military justice system.

In November, Trump granted a pardon to Army 1st Lt. Clint Lorance, convicted of second-degree murder in the death of two Afghans. Lorance walked out of military prison the next day. He also preemptively waived charges against Army Maj. Mathew Golsteyn, who faced trial at Fort Bragg on murder charges for actions in Afghanistan. In the most highly publicized case, Trump granted clemency to Navy Chief Petty Officer Edward Gallagher, who had been acquitted of a string of alleged war crimes but convicted of posing for a picture alongside the corpse of an insurgent.

Trump said their previous military service merited a "second chance." Congressman Moulton said a Marine sergeant major texted him saying Trump's actions were "basically setting a precedent that the rule of law in a combat zone doesn't apply and encourages folks to start burning villages and pillaging like Genghis Khan."

Defense officials emphasized that the moves were within the White House's authority. "I understand where the sergeant major is coming from," Milley said. But, he noted the president of the United States is part of the process, and he has the legal authority to do what he did.

Trump's timing was part of the issue. Senior military advisers said the commander in chief should not have involved himself until all the cases were adjudicated. Asked about Golsteyn's status, Secretary of Defense Mark Esper told The Washington Post that he was focused on the Gallagher case and would "take this one step at a time."

Republicans came to the president's defense. "We need to be very careful in equating bad judgment calls, calls that may get you relieved of command, with a war crime," Rep. Michael Waltz, R-Fla., and an Army veteran said.

First hailed a hero, then stripped of his medals and charged with murder only to be pardoned by the president, Golsteyn wants the Silver Star he was awarded in 2010 to be upgraded to the Distinguished Service Cross, the military's second-highest honor. He is a graduate of the U.S. Military Academy and a former Green Beret. He was cited for bravery while with the 3rd Special Forces Group during the battle of Marjah in 2010, where he repeatedly braved enemy fire, launched a mission to find enemy marksmen, aided a wounded Afghan soldier and coordinated airstrikes.

Pictured: Gen. Mark Milley appeared before the House Armed Services Committee.