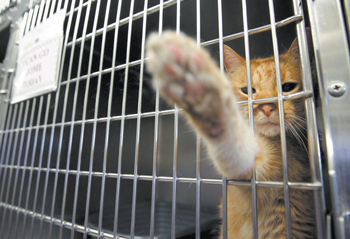 The term pound is still commonly used in American society. Its origin is a mystery, but one belief is that it's a derivative of impound, meaning an enclosed area. These days, homeless animals are no longer viewed as a public nuisance to be warehoused in substandard facilities and disposed of as quickly as possible. Homeless animals and the care they receive in shelters has changed for the better. Increasingly, the trend across the United States is to design shelters as friendly and inviting community centers where the public can go to relinquish or adopt pets.

"There is an awareness and a willingness to help these animals, and we are confident that we can make an even bigger difference … in the coming years," Cumberland County Animal Control Director Elaine Smith said in a news release. "Our ultimate goal is to never have to euthanize an adoptable animal, and we appreciate all the help from our community partners, the Fayetteville Animal Protection Society, numerous rescue groups, our volunteers and foster parents."
Animal Control said 3,012 dogs and cats were adopted locally in 2019, compared to 2,829 in 2018. The number of dogs and cats euthanized by the county dropped by more than 500 from 3,790 in 2018 to 3,241 in 2019. Smith said personnel at Animal Control strive to perform their jobs professionally and thoroughly. They love and care for the animals brought into the shelter, she said, and do their best to find homes for as many of the animals as possible, and only as a last resort, euthanize them.

The Cumberland County Animal Control department has implemented the Fear Free Shelter Program whereby all 48 employees complete studies on the emotional health of animals, animal communication, gentle control techniques and good behavior training. The Fear Free Shelter Program teaches strategies and techniques to reduce fear, anxiety, stress and frustration in the dogs and cats handled by Animal Control staff in the shelter and in the field.

"Our goal at Cumberland County Animal Control is to constantly improve the way we handle and house animals at our shelter so that we minimize the animals' stress and fear," Smith said. "We are all animal lovers, so the employees are eager to learn and improve their knowledge and skills." Future Animal Control employees will be required to obtain certification when they are hired. This training is provided at no cost by the Fear Free Shelter Program.

The public is encouraged to support the thousands of cats and dogs who find their way to the animal shelter annually. Monetary donations can be made to the Animal Enrichment Fund at licensepet.com/cumberlandcountyncdonate. Food, toys or treats can be donated at the shelter. Additionally, Friends of Cumberland County Animal Shelter collects cold-weather dog houses, straw and blankets for outdoor dogs for their comfort and safety during the winter months.

Residents who would like to donate cold-weather supplies may drop off items at the shelter. The Animal Control Department and Animal Shelter are located off Tom Starling Road, east of Fayetteville.